> [Archived] Events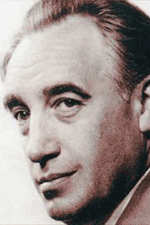 Centenary of Constantin Silvestri at Radio Romania Music
Tuesday, 28 May 2013 , ora 15.10

On 31
st
May 2013, we (will) celebrate 100 years since the birth of one of the most important Romanian musicians of the 20
th
century: the conductor and composer Constantin Silvestri.
Radio Romania Music is dedicating to this great figure of Romanian music a seven hour marathon show programme on Friday, 31st May, from 10:00 to 17:00.
The moderator of the show, Anca Ioana Andriescu, has made a selection ofconductor Constantin Silvestri's most interesting and relevant recordings fromthe Radio Romania Music archives: from the ones performed during the first 'George Enescu' International Festival in 1958 to legendary recordings (imprints), such as his performance of the Ninth Symphony by Dvorak, which received the Charles Cros Academy prize, or the Dixtuor by George Enescu, which won Grand Prix du Disque.
The show also includes works by Constantin Silvestri himself, among which Cântec de pustiu performed by the composer himself.
The programme will also include Anca Ioana Andriescu's interview with professor Ion Beldi,who performed under the baton of Constantin Silvestri both in the National Radio Orchestra, and in the'George Enescu' Philharmonic Orchestra. The personality of Constantin Silvestri is revealed also by his letters, which will be discussed during the show.
Constantin Silvestri is one of theworld's most important conductors of the 20th century, and one of the most appreciated Romanian composers. As a conductor he had his debut in 1930 with the National Radio Orchestra, for which he held the position of principal conductor from 1953 until 1958. He was also the conductor of the 'George Enescu' Philharmonic Orchestra (1945-1953), and also the artistic conductor of the Romanian Opera in Bucharest (1953-1957). In 1948 he founded the conducting department of the National University of Music in Bucharest.
Constantin Silvestri left communist Romania in 1958, after the first edition of the"George Enescu" Festival and moved to Paris. In 1961 he was appointed principal conductor of the Symphonic Orchestra in Bournemouth (New England), which he helped turn into an elite Orchestra at an international level. After 1961, Silvestri conducted concerts held by some of the greatest ensembles of the world, from Europe, Asia and Australia. He died of cancer at only 55 years of age in the month of February 1969, in London.

Translated by Andreea Mesescu and Serban Dudau
MTTLC, The Universityof Bucharest