> [Archived] Events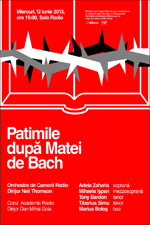 The Radio Chamber Orchestra Ends the Season with a Concert Event, Performing Bach's 'Matthaus-Passion'
Wednesday, 5 June 2013 , ora 10.28

After a season with artists from all over the world and with a varied repertoire,
The Radio Chamber Orchestra
which was founded 60 years ago, through The Radio Studio Orchestra, and which has evolved since 1990 in this format and under this title, ends the 2012-2013 season.
For this sort of event they have chosen a remarkable musical piece that stresses on the mastery of the ensemble. On Wednesday, 12th June, at 19:00 o'clock, you will listen to Matthäus-Passion, one of the great Johann Sebastian Bach's works. It is considered a masterpiece of sacred music since its composer drew his inspiration from The Gospel of Matthew. The musical piece is ahead of its time as many critics said that one can 'anticipate' Wagner's style which he would later develop in his works.
The entire concert will unfold under the baton of British conductor Neil Thomson, who has conducted many famous orchestras in the UK, such as London Symphony Orchestra, London Philharmonia, BBC Symphony Orchestra, the Royal Scottish National Orchestra and many other prestigious ensembles from all over the world. He has been collaborating with Radio Romania's musical ensembles: The Radio Chamber Orchestra, The National Radio Orchestra and The Academic Radio Choir. He studied at The Royal Academy of Music and at The Royal College of Music in London and was the youngest conductor who was ever made Head of Conducting at the second most prestigious foundation.
Five lyrical artists are invited to bring to life Bach's work: soprano Adela Zaharia, who has signed on with The Berlin Comic Opera, mezzo soprano Mihaela Ispan, soloist at the Bucharest National Opera House, tenor Tony Bardon, soloists at two lyrical institutions in Cluj-Napoca, that is The Hungarian Opera and The Romanian National Opera; also, tenor Tiberius Simu who has had a bright career in Romania and overseas and bass Marius Bolos who has collaborated with Bucharest National Opera House on many occasions.
The Academic Radio Choir, conducted by Dan Mihai Goia, will also perform at this event.
For further information on the 2012-2013 season of the Radio Orchestra and Choir, please refer to the following sites: orchestreradio.roor orchestreradio.com.

Translated by Morosanu Petronela and Elena Daniela Radu
MTTLC, The University of Bucharest