> [Archived] Events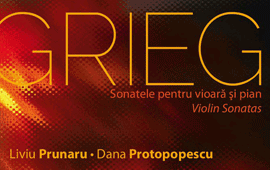 Official Release of an Event CD at 'Casa Radio' Publishing House: 'Sonatas' by Edvard Grieg with Violinist Liviu Prunaru and Pianist Dana Protopopescu
Monday, 10 June 2013 , ora 8.08

'Casa Radio' Publishing House and Radio Romania Music present the latest CD by famous violinist Liviu Prunaru, concertmaster of the Royal Concertgebouw Orchestra in Amsterdam, and by renowned pianist Dana Protopopescu, an artist who has a beautiful career in Belgium.
The release of the new record will take place at the Humanitas Kretzulescu book shop in Bucharest (Calea Victoriei no. 45) on Friday, 14th June, 2013, at 18:00, in the presence of the two musicians. We will also listen to Anca Florea - musicologist, the author of the CD booklet and Liliana Staicu - editor-in-chief at Radio Romania Music. Tiberiu Comandașu will host the event on behalf of Casa Radio Publishing House. After the release, Liviu Prunaru and Dana Protopopescu will hold an autograph signing session.
The record contains the three sonatas for violin and piano by Edvard Grieg in an exceptional performance, which musical critics have already noticed: 'I want to draw attention to this record not for "patriotic" reasons, although I think we should take better pride in our fellow countrymen's achievements, but rather because I am fully convinced that this is a top level CD. Over the years I have listened to hundreds of CDs released by great record companies. This one, by Romanians Liviu Prunaru and Dana Protopopescu, has the same interpretive excellence, both technically and artistically, peppered with a sort of experience that usually makes Romanian musicians successful, an extraordinary sensitivity which doesn't however wax obsolete or tacky.' (Cristina Comandașu - article published on www.adevarul.ro on 11th February, 2013)
The record is also part of the 'Cast Your Vote in the Poll for the Best Classical Album of 2013' campaign, organized on the Radio Romania Music website (www.romania-muzical.ro). It has been the most voted album so far, out of the over 50 that are already in competition. The record was broadcast by Radio Romania Music on 15th January, 2013, on the occasion of the National Culture Day.
You can find the CD in specialised music stores or on the Casa Radio Publishing House website (www.edituracasaradio.ro) for 14 lei.
Liviu Prunary and Dana Protopopescu have also recorded the whole of Ludwig van Beethoven's sonatas for piano and violin, which is already a sold-out album of 'Casa Radio' Publishing House. In June 2013, they are in Bucharest to record sonatas by Franck and Lekeu for a 'Casa Radio' Publishing House - Radio Romania Music project.

Translated by Irina Borțoi and Elena Daniela Radu
MTTLC, The University of Bucharest