> [Archived] Events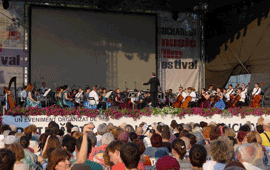 The National Radio Orchestra under the Baton of Tiberiu Soare, Long Rounds of Applause at the 'Bucharest Music Film Festival'
Tuesday, 25 June 2013 , ora 9.49

In a Bucharest that was overwhelmed by heat, music lovers found their 'refuge' on Saturday night - 22nd June, 2013 - in the oasis filled with flowers, quality music and good spirited atmosphere which was created in the 'George Enescu' Square (to the side of the Romanian Athenaeum) by the extraordinary concert held by the National Radio Orchestra and its main conductor, Tiberiu Soare. The more than a thousand spectators who came to the square enjoyed a wonderful evening which was conceived with a focus on the most beautiful and well-known fragments from operas such as: La Traviata and The Force of Destiny - Verdi, The Barber of Seville - Rossini, La Bohème and Turandot - Puccini, The Marriage of Figaro and Don Giovanni - Mozart, Carmen - Bizet, Evgheni Oneghin - Ceaikovski, and more. The young vocal soloists Ana Maria Donose (soprano), Maria Jinga (mezzosoprano), Liviu Indricău (tenor) și Daniel Pop (baritone) received the praise of the public alongside the National Radio Orchestra.
The event which was presented by the National Radio Orchestra is part of the 8th edition of the series of events held under the title Bucharest Music Film Festival, which took place in the 'George Enescu' Square between 21st - 30th June. The festival was organised by the Bucharest City Hall through ArCub - the Centre for Cultural Projects.
'We were happy to perform for the third time during the Bucharest Music Festival, with the National Radio Orchestra conducted by Tiberiu Soare, in a concert that was truly exceptional', said the artistic director of the Radio Choirs and Orchestras, Oltea Șerban Pârâu.
For the evening which was offered to the public, the female artists of the National Radio Orchestra looked spectacular and felt great wearing the dresses which were created for them for this open-air concert in the colours red, turquoise, purple, and burgundy.
On Wednesday, 26th June, starting at 20:00, two of the most active Romanian musicians, soloists of the Radio Romania Orchestras and Choirs, will perform during the Bucharest Music Festival: pianist Horia Mihail and violinist Gabriel Croitoru. Their recital will include works by Haydn, Ravel, Dvoűák, a remarkable demonstration of virtuosity.
For further information about the Radio Romania Orchestras and Choirs, please refer to our websites: www.orchestreradio.ro or www.orchestreradio.com.
Serban Dudau and Elena Daniela Radu
MTTLC, The University of Bucharest