> [Archived] Events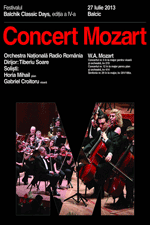 The National Radio Orchestra, Tiberiu Soare, Gabriel Croitoru and Horia Mihail Will Perform at The Festival in BALCIC
Wednesday, 24 July 2013 , ora 8.51

After a season which saw the Radio Romania Orchestras and Choirs perform in some of the most beautiful places in the world, most importantly during the oldest running music festival in China -
Shanghai Spring International Music Festival
- before the start of a new eventful season, the National Radio Orchestra will make a stop on the shores of the Black Sea, in a place laden with significance:
BALCIC
.
Saturday, 27th July, starting at 19:30, The National Radio Orchestra under the baton of its main conductor, Tiberiu Soare, will offer a magnificent demonstration of artistic virtuosity to the audience of the Balchik Classic Days Festival: a concert dedicated exclusively to Mozart's works, with the participation of two of the institution's concert soloists, pianist Horia Mihail and violinist Gabriel Croitoru. Classical music lovers and tourists from the shores of the Black Sea will have the rare opportunity to attend the concert.
In the resort which was so dear to Queen Mary, and which provided inspiration to numerous Romanian painters, the evening concert held by the National Radio Orchestra will open with the Violin Concerto no.5 in A major, with Gabriel Croitoru as soloist. The work is also titled Turkish Concert because of its unique oriental sonorities. The programme will continue with the Piano Concerto no.12 in A major with Horia Mihail on solo piano, and will end with a performance of the Symphony no.29 in A major.
Some of the most renowned musicians of the classical music world have performed during the previous editions of the Balchik Classic Days Festival, such as: celloist Lászlo Fenyő, conductor Martin Panteleev, pianist and conductor Justus Frantz, tenor Robert Nagy, as well as orchestras such as The Classic FM Orchestra and The Sofia Symphonic Orchestra.
For more information about the Radio Romania Orchestras and Choirs, please visit the websites at www.orchestreradio.ro or www.orchestreradio.com.

Translated by Șerban Dudău and Elena Daniela Radu
MTTLC, The University of Bucharest