> [Archived] Events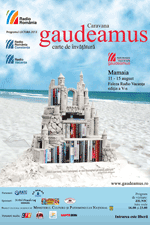 The GAUDEAMUS Caravan Reaches the Beaches
Tuesday, 6 August 2013 , ora 10.10

This summer, Radio Romania brings reading back to the seashore. Between 11th and 15th August, everyone who wants to spend his time in some other way, is invited on the Holiday Radio sea-wall, in Mamaia, to the fifth holiday edition of GAUDEAMUS Book Fair.
The event, which closes the GAUDEAMUS Caravan's 2013 edition, is organized by Radio Romania - the GAUDEAMUS team and Radio Romania Constanta - Holiday Radio. This event is included in the anniversary series that marks 85 years since Radio Romania was founded and 20 years since The READING Programme - GAUDEAMUS Book Fair started.
In a new formula, adjusted to the season (enjoying the sunny holiday) and the place (on one of the most beloved Romanian beaches), The GAUDEAMUS Book Fair will surprise all of its guests with:
-thousands of books to read at the beach, for all ages and tastes, with prices according to the discounts season;
-the newest titles, delivered straight on the beach, for those who cannot wait until they arrive home;
-Miss Reading Competition which addresses to our beautiful guests who enjoy reading at the seaside;
-a visiting program accessible to all those beach lovers or those who have more fun at nighttime; the book fair will be opened every day between 16:00 o'clock and 23:00 o'clock.
For five days, the GAUDEAMUS Police will patrol on the beach in Mamaia and will give many gifts as 'fines' to those whom they will find reading; the 'fine' for reading on the beach will be paid by the organizers, Radio Romania Constanta- Radio Holiday and the GAUDEAMUS team.
This cultural project has the support of The Ministry of Culture and National Heritage.
For further information on the GAUDEAMUS Book Fair's 2013 edition in Mamaia, please refer to the GAUDEAMUS Office. Contact person: Cornelia Scarlat (telephone: 0745.109.648, e-mail: cornelia@gaudeamus.ro)

Translated by Morosanu Petronela and Elena Daniela Radu
MTTLC, The University of Bucharest