> [Archived] Events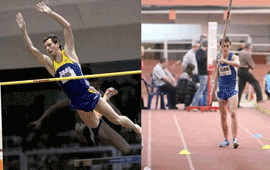 Romanian Champion Athletes at 3Net Summer Camp
Tuesday, 13 August 2013 , ora 11.11

3Net Summer Camp is launching another challenge for all the children on camps at the Luminita beach, the North Eforie resort.
On Friday, 16th August, in the afternoon, 16 pole vault title holders will make a stimulating display of athletic sports, for the first time on a beach in Romania. The 16 athletic champions will organize a pole vault competition-show, on a 40-meter track, especially assembled for this event. In the end, the spectators will be pleasantly surprised to see that the demonstrative pole vaults will come to a close in the sea.
Senior pole vault title holders Bogdan Popa, Andrei Deliu, Lavinia Scurtu and many other gifted juniors will try to get ground on the young spectators.
Former legends of athletic sports Paula Ivan, Olympic champion and multiple world record-holder and Liliana Nastase, multiple record-holder and world heptathlon beater will come as special guests.
The evening will resume in the same stimulating manner, this time with the help of a concert given by Micul Paris band and soloist Brigitta.
The event is organized by Radio Romania 3Net Florian Pittis, The Romanian Athletic Federation through The Atletis Foundation, Eforie City Hall and S. C. Vanimar. It is part of the Zilele Eforiei Festival and it will be broadcast on tabaradevara.radio3net.ro. Mr. Ion Ovidiu Brailoiu, the mayor of Eforie, is also expected to make an appearance.
Therefore, if you happen to be at the beach Friday afternoon, do not miss this unprecedented pole vault show! You are welcome!
Morosanu Petronela and Elena Daniela Radu
MTTLC, The University of Bucharest