> [Archived] Events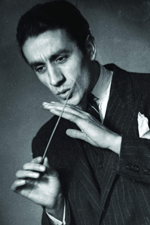 Sergiu Celibidache Marked the Union of the Two Germanies
Tuesday, 20 August 2013 , ora 9.10

Sergiu Celibidache was invited to give a concert in order to celebrate the reunification of Germany into a national state, marking thus a page in the history of humanity.
The historic event was celebrated in Berlin through a charity concert and the opening speech was given by the German president Richard von Weizsäcker who emphasized that he was feeling honoured to stand next to Maestro Sergiu Celibidache after such a long time: I would like to use this opportunity to thank the great and wise conductor Sergiu Celibidache for his return at the stand of the Berlin Philharmonic Orchestra, after 38 years.
Continuing his speech, the president Weizsäcker pointed out the devotion that Sergiu Celibidache showed towards the Berlin Philharmonic, how he developed it during the harsh period of the Second World War and how he practically lived in the midst of the orchestra.
The talent and the stamina with which Sergiu Celibidache built his career turned him from 'the Romanian gypsy', as he was labeled at first, into 'the Romanian who united Germany'; the funds obtained at this concert were donated to the poor children in Iasi, the city where the Maestro Celibidache lived. Thus, once again, we received proof of the magic destiny of this great Romanian and of his love for his native country.
Sergiu Celibidache made his debut as conductor with the Berlin Philharmonic, when he was 33 and he continued until bringing it to the highest professional level. This collaboration led to 414 concerts in Berlin and in the tours all over the world. During the first season alone (1946), Celibidache conducted no less than 108 concerts.
The speech of the president Richard von Weizsäcker and the concert conducted by Sergiu Celibidache:
http://www.youtube.com/watch?v=VgMnVeZmGAs

Translated by Mihaela Olinescu and Elena Daniela Radu
MTTLC, The University of Bucharest