> [Archived] Events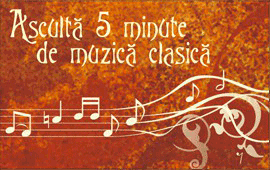 Romaniais 'Listening to 5 Minutes of Classical Music'
Tuesday, 1 October 2013 , ora 8.05

Between 1st - 31st October, you can listen to 5 minutes of classical music in unconventional places all across Romania, such as: hipermarkets, shopping malls, libraries, schools and museums, thanks to the Radio Romania Music campaign, the only Romanian station exclusively dedicated to classical music and jazz. The October edition of the project 'Listen to 5 minutes of classical music' also brings short live recitals by cellist Răzvan Suma in 4 of the country's shopping malls, as part of the tour 'Do you like Brahms ?'. Răzvan Suma will be at the Palas Mall in Iași on 7th October, at the Iulius Mall in Suceava on 9th October, at the Iulius Mall in Timișoara on 14th October and at the Iulius Mall in Cluj on 16th October.
'Listen to 5 minutes of classical music' is a campaign initiated by Radio Romania Music aimed at bringing classical music as close as possible to the general public. The campaign has reached its 7th edition, being received with success and much interest by the public of the previous editions held twice a year since 2010.
The principle of the campaign is simple: the broadcasting of five minutes of classical music, daily, in as many unconventional spaces, other than concert halls, where the influx of public/visitors is as high as possible. Also, everyday the song of the day from the 'Listen to 5 minutes of classical music' campaign can be heard on Radio Romania Music, as well on the Radio Romania Regional network.
The project's main target is to introduce,especially the young audience, to the sound of classical music. This year, as a novelty, the project enjoys an important development thanks to the collaboration with schools all over Romania, which means that a considerable number of Romanian studentswill be able to listen to classical music during the breaks or during the music and tutoring classes.
For more information about the campaign please refer to www.romania-muzical.ro/5minute which also hosts the audio files of the musical piecesincluded in the project.
'Listen to 5 minutes of classical music' is a Radio Romania Music project, initiated and developed by Cristina Comandașu.
The project partners of the October 2013 edition are:
Carrefour Romania
Cora Romania
Băneasa Shopping City
Iulius Mall Iași
Iulius Mall Timișoara
Iulius Mall Cluj
Iulius Mall Suceava
Palas Mall Iași
Cotroceni National Museum
Peleș National Museum
Bran Castle
Brukenthal Museum in Sibiu
The National Historical Museum of Transylvania in Cluj
The Romanian Peasant Museum
Pricewaterhousecoopers
Humanitas Bookstores
....together with schools from all over Romania.

Translated by Peia Ciprian-Tiberiu and Elena Daniela Radu
MTTLC, The University of Bucharest