> [Archived] Events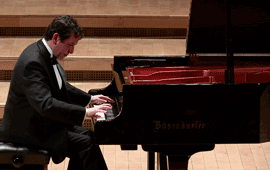 Pianist Horia Mihail in Tierra del Fuego
Friday, 11 October 2013 , ora 9.11

Pianist Horia Mihail will participate in the
Ushuaia International Festival
in Argentina (15
th
October, 2013), where he will represent Romania with a recital consisting of the programme of the
Travelling Piano
national tour, which was organised by Radio Romania Culture and the Accendo cultural association for the third time this year. The chosen repertoire - Beethoven's
Pathétique, Moonlight Sonata
and
Appassionata
- will be repeated in this international formula of the tour, at the international classical music festival in Ushuaia.
Before the concert in Tierra del Fuego, Horia Mihail will give a recital in Buenos Aires on 13th October, in the chamber hall of the 'Usina del Arte' Cultural Centre, which is a reference cultural venue in Argentina. He will be supported by the Buenos Aires government.
'It is for the first time that I have crossed the Ecuator as a musician or a tourist, so it is a true premiere for me. I am going to Argentina. I'll give a solo recital in Buenos Aires, then I'll fly for a few hours to the end of the world, to the southernmost city in the world, which hosts a festival where I was invited to play a Beethoven recital, and the efforts of four institutions - the Romanian Embassy in Argentina, the Romanian Cultural Institute, Radio Romania and the Vodafone Foundation - made this journey of mine possible; it's 34,000 km away from Bucharest in a straight line. I am glad the story of the Travelling Piano will reach Tierra del Fuego.'
On a national level, the Travelling Piano tour was a successful project in 2013, too. Last spring, Horia Mihail went to the historical provinces of the country, met the first two travelling pianos in Sânnicolau Mare and in Mediaș, travelled with the third piano (a restored Steinway offered by Radio Romania) around the Bucharest parks and then went to three cities in Moldova where they did not have concert pianos, namely, Bârlad, Tecuci and Roman. The road was not easy because the piano, weighing 700 kg, was taken down, set up and tuned in every city. The effort was entirely worth it, though, because the halls were full to the brim during all the recitals. At the end of the journey, the piano was offered to the local community in Tulcea.
'From the first strokes of the keyboard the audience was captivated by the clarity and beauty of the sound, both of which are qualities specific to great pianists. I closed my eyes and, for a few moments, I felt that those sublime sounds were made by the touch of Radu Lupu's fingertips, or by those of any other great piano titans : Arturo Benedetti Michelangeli, Daniel Barenboim and Murray Perahia. I thought that what was remarkable about Horia Mihail's interpretation, was the perfect harmony between the reasonable way of building the musical phrases and the refined sensitivity that enveloped the sound in a diaphanous halo, all of these being essential elements of the sought-after pianist's touch that singularize piano players.' (Cultura, May 2013)
Horia Mihail is a solo concertist of the Radio Orchestras and Choirs and his travel expenses to Argentina will be paid by the Romanian Cultural Institute, the Romanian Embassy in Buenos Aires, Radio Romania and the Vodafone Foundation.

Translated by Irina Borțoi and Elena Daniela Radu
MTTLC, The University of Bucharest