> [Archived] Events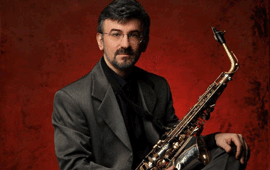 Greek Saxophonist Theodor Kerkezov in Concert in Bucharest, Together with the National Radio Orchestra
Monday, 21 October 2013 , ora 8.08

The National Radio Orchestra, under the baton of its principal conductor, Tiberiu Soare, invites you to a meeting with a special guest: one of the most valuable European saxophonists, Greek musician Theodor Kerkezov.
He performed together with prestigious ensembles among which we mention: the Moscow Radio Symphony Orchestra, London Symphony and London Philharmonic Orchestra, Saint-Petersburg Philharmonic, Zurich Symphony Orchestra, Berlin Symphony Orchestra and so on. He is teaching at the Philippos Nakas Conservatory in Athens and he lectures master courses at the University in Saint-Petersburg, Moscow, Boston, Princeton and Louisiana.
During the evening's programme you will be able to listen to: Bacchanale from the opera Samson and Dalilah, inspired from the Biblical tale of the characters with the same name and the only lyrical work of the French composer Camille Saint-Saens, which is performed nowadays. The concert will continue with a score of another famous French composer: Maurice Ravel, known by music lovers thanks to his Bolero: Piece in the form of Habanera.
One of the most prolific French composers of the XXth century, Darius Milhaud, too little known by the general public, conceived many valuable scores inspired from jazz. From these, Greek saxophonist Theodor Kerkezov will delight you with his work Scaramouche, the suite for saxophone and orchestra. After an inroad into the French composers' world, the evening will end with a score by George Enescu: Suite for Orchestra No. 2 in C major.
A complex artist, Theodor Kerkezov is one of the most successful saxophonists of his generation. He studied at the Conservatory in Athens and he continued his studies in France with Deffayet and Jean Marie Lemdeix. Theodor Kerkezos has been awarded many prizes for his albums .
Tickets are available on www.bilete.ro, at the Romainian Post Offices, at the Immedio stores signaled "Bilete.ro", at the Germanos stores and at the Booking Office of the Radio Hall. You can also find further information related to the Radio Orchestras and Choirs on www.orchestreradio.ro or www.orchestreradio.com.

Translated by Eugenia-Daniela Lupașcu and Elena Daniela Radu
MTTLC, The University of Bucharest