> [Archived] Events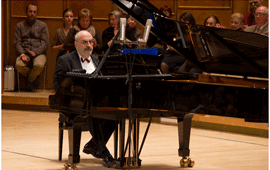 Royal Concert at the Radio Hall
Friday, 8 November 2013 , ora 9.51

Tuesday, on 7
th
November, starting at 19:00, an extraordinary recital took place at the Radio Hall, a recital performed by the famous pianist Dan Grigore as part of the Royal Concert organized on His Majesty King Mihai I's anniversary and name day. The event was unfolded in the presence of the Royal Highnesses Princess Margarita, Prince Radu and Prince Nicolae, together with many guests of the Royal House.
Maestro Dan Grigore, an internationally renowned pianist, performed the concert at the Radio Hall in his capacity as the Pianist of the Royal House.
After the Royal Anthem was sung, the audience, who filled the Radio Hall to the brim, had the chance to listen to the works of some great composers from various artistic periods, in Maestro Dan Grigore' interpretation: Johann Sebastian Bach (Choral from Cantata No. 147), Ludwig van Beethoven (Menuet), Felix Mendelssohn (Song without Words), Franz Schubert (Impromptus in E flat major),Serghei Rachmaninoff (Prelude in G sharp minor),Frédéric Chopin (Etude in E major, Waltz in C sharp minor, Minute Waltz), Wolfgang Amadeus Mozart (Alla turca), Domenico Scarlati (Sonata in D minor Pastorale), Robert Schumann (Dreaming), Gluck - Sgambatti (Melody), George Enescu (Adagio from Suite in an old style), Isaac Albeniz (Candiz), Aleksandr Skriabin ( Etude in C sharp minor).
The end of the concert brought applause for the repertoire's diversity and for Maestro Dan Grigore's extraordinary sensitivity of interpretation, about which the daily Berliner Morgenpost wrote many years ago : "one may think of a one man show, if one does not have the feeling that Grigore completely abandons himself when he plays. "
A performance of high artistic virtuosity, a royal music that Maestro Dan Grigore offered in honour of His Royal Majesty King Mihai I's anniversary at the Radio Hall where spectators were His Majesty's friends, ambassadors, institutional representatives, officials, intellectuals.
Happy Birthday, Your Majesty!

Translated by Eugenia-Daniela Lupaºcu andElena Daniela Radu
MTTLC, The University of Bucharest