> [Archived] Events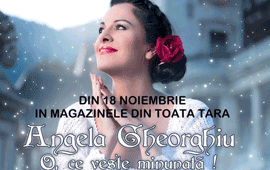 Angela Gheorghiu Released her First Album of Romanian Carols, 'Oh, What Wonderful News!'
Monday, 18 November 2013 , ora 8.26

The international superstar
Angela Gheorghiu
launches her first album of Romanian Carols,
O, what wonderful news!
, together with MediaPro Music, a perfect gift for the winter holidays.
The new album, accomplished with the help of Radio Romania and The House of Arts Cultural Centre, contains 16 of the most loved traditional Romanian carols, amongst which Good Morning, Christmas Eve, White Flowers (Christ Was Born Today) or Colindița.
With this occasion, Angela Gheorghiu launches a carol, Down There in Bethlehem, extracted from this album. The carol is traditional, transformed by Nicolae Lungu, and arrangements realised by Dan Dediu.
I recorded this album of carols so I can bring back to people's hearts that simple joy but uplifting, of Christmas spent with the dearest people. I am happy and excited to be able to offer the public the first Romanian carol album, with arrangements thought for my spirit and my voice. It's a dream come true for me, because it is a project that I care about very much, the first one accomplished through the foundation that I created and that has my name, the Angela Gheorghiu Foundation. I want to thank all my friends who supported me so I can offer you the best in the traditional Romanian Christmas music. I wish you happy holidays and peace!, said Angela Gheorghiu.
The songs were recorded in September 2013 at the Radio Hall, together with The National Radio Orchestra, conducted by Tiberiu Soare, Madrigal National Chamber Choir, conducted by Voicu Popescu and Accoustic Choir, conducted by Daniel Jinga and in the ISV Studio - Ines Studio & Video.
The album is a co-production Angela Gheorghiu Foundation - Radio Romania - The House of Arts Cultural Centre District 3 Bucharest - District 3 City Hall. The general producer of this album is Oltea Șerban Pârâu and the executive producer, Alice Barb.
The new album can be found in all the specialised stores from the country and in hypermarkets, at the music section.
Sound engineer: Cristi Dobrică, Călin Ioachimescu, Andrei Barbu
Orchestrators: Dan Dediu, Cristian Lolea, Constantin Arvinte
Digital editing: Yvan Bing, Laurent Vonlanthen
If you wish to listen to the carol "La Vitleem colo-n jos" interpreted by Angela Gheorghiu, please refer to the website: http://www.youtube.com/watch?v=G5YBqjqdxHk.

Translated by Ioana-Alexandra Dumitrescu and Elena Daniela RaduMTTLC, The University of Bucharest