> [Archived] Events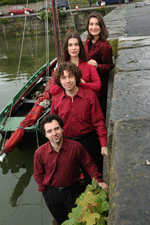 Contempo - the New Resident Quartet for Ireland's National Public Service Broadcaster
Monday, 2 December 2013 , ora 14.51

The ConTempo ensemble, after having won an international competition, will become the official ensemble of Ireland's National Public Service Broadcaster, for three years in a row, starting in 2014.
Bogdan Șofei, Ingrid Nicola, Andeea Banciu and Adrian Mantu, the members of the ConTempo quartet, will be the representatives of the new resident quartet of Ireland's National Public Service Broadcaster, starting in the spring of 2014, by replacing the Vanbrugh Quartet, an ensemble which maintained this status for twenty seven years.
ConTempo String Quartet was formed in Bucharest in 1955. It has won fourteen international prizes and performed in more than 1000 concerts all over the world: New York, London, Berlin, Munich, Paris, Tel Aviv, Brussels and Bucharest.
Starting in 2003, ConTempo has been a resident quartet on the West Coast of Ireland, where they have also organised an annual festival, also named ConTempo. Along the years, they have worked with great artists such as: Emma Johnson, Martin Lovett, Bruno Giuranna, Hugh Tinney, John Feeley and Martin O'Connor.

Translated by Zbarcea Bianca-Lidia and Elena Daniela Radu
MTTLC, The University of Bucharest