> [Archived] Events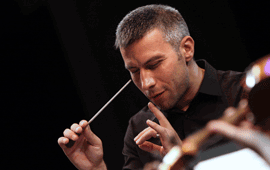 Tiberiu Soare Brings the 'Nutcracker' to the Radio Hall This Year
Monday, 9 December 2013 , ora 8.07

'The music of the
Nutcracker
ballet invites you to see the world from a different perspective: as a much broader realm than you would have thought, where gentle giants live, giants speaking a language we can hardly understand half of, a place where the meanings of 'magical' and 'trivial' are completely reversed and where toys have their own soul and personality. It's an invitation to see the world through the eyes of the child that you once were.' - said
Tiberiu Soare
, main conductor of Radio Romania's Orchestras and Choirs, about the score he will be conducting.
The most popular ballet of all times for 'children' of all ages, the work that has been in the spotlight of the best theatres around the world, is the Nutcracker. The everlasting Christmas tale, unraveled by means of dancing, be it either a ballet on ice, an artistic movie, a cartoon, or a picture book, could not have been excluded from our celebrations this year either.
On Friday, 13th December, at 19:00, anyone who can still dream is invited to embark on an imaginary journey alongside Clara and the Prince in the magical Land of Sweets. The piece by the famous Russian composer Pyotr Ilyich Tchaikovsky is an evergreen of classical music. The suite of Act II - Spanish Dance, Arabian Dance, Chinese Dance, Waltz of the Flowers and others - is the most popular and appreciated part of the ballet. The story's magic will be brought to life by the National Radio Orchestra, conducted by Tiberiu Soare, a refined connoisseur of ballet music.
During the same evening you will be attending the premiere of a special work: The Fever, a triple concerto for flute, clarinet, cello and orchestra, completed this very year by Dan Dediu, a prolific Romanian composer known for his opera, A Lost Letter, which was recently performed at the National Opera Bucharest. Three of the greatest Romanian musicians will be performing: flutist Ion Bogdan Ștefănescu, the only Romanian possessing an 18k golden flute, protagonist of the national tour 'The Golden Flute', Emil Vișenescu playing the clarinet, the proud possessor of numerous prizes and partaker in many festivals, and the cellist Răzvan Suma, soloist of the Radio Orchestras and Choirs, also known for his national tours Do you like BACH? and Do you like…BRAHMS?.
The third musical piece of the evening will be the overture to The Abduction from the Seraglio, Mozart's work dedicated to his marriage with the young Constanze.
Tickets are available at www.bilete.ro, at the Romanian Post offices, at the Inmedio Storesin partnership with Bilete.ro, at Germanos stores and at the Radio Hall's box office.
For more information regarding the Radio Orchestras and Choirs please visit www.orchestreradio.ro or www.orchestreradio.com.

Translated by Scurtu Andrei Ionuț and Elena Daniela Radu
MTTLC, The University of Bucharest