> [Archived] Events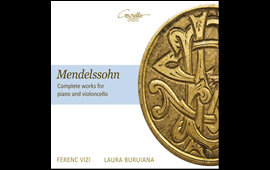 The Best Romanian Classical Album of 2013
Friday, 17 January 2014 , ora 12.13

It was violoncellist Laura Buruiană and pianist Ferenc Vizi who authored the winner of the open voting campaign called "Cast your vote in the poll for the best classical album of 2013", that took place on the www.romania-muzical.ro website. Their album features Felix Mendelssohn's complete works for piano and violoncello and was published by the Coviello Classics German Recording House in March, 2013.
The album raised a total of 364 votes, adding up to a final mark of 4.99 out of a total of 5. It was aired on Radio Romania Music on 6th January, 2014, and can be accessed freely on the campaign website:www.romania-muzical.ro/info/votează2013. British magazine Gramophone had only words of praise for Laura Buruiană and Ferenc Vizi's album of Mendelssohn's work, in their July, 2013 issue.
Violoncellist Laura Buruiană, who had been intensely promoted by Radio Romania Music in her early days, said she was very thrilled by this outcome: "We are truly honoured. We did not expect it. My album was the last to join this competition, that featured amazing albums, many of which I, myself, have listened to. I was delighted at the news. I told Ferenc Vizi and were both extatic.
What do you think was the edge that made your album a favourite, pushing it to first place, because it was, indeed, a surprise that it came in last and won?
Maybe it was the repertoir, to begin with. Mendelssohn's sonatas and the concert variations of hadn't been recorded that much. There are only five or six albums with this repertoir, to my knowledge. Mainly because the piano score is very difficult, I have also had the chance to play alongside Ferenc Vizi, a great virtuoso."
Radio Romania Music has scheduled a broadcasting event for 21st January, at 19:30, including interviews with the two interpreters of 2013's best Romanian album - Laura Buruiană and Ferenc Vizi, as well as the recordings of the two Romanian artists. The show will be hosted by Cristina Comandașu, who also coordinates the campaign.
On 24th April, at 19:00, Laura Buruiană will also be the guest of Video Interviews on Radio Romania Music, a show that is broadcast live both on the radio and also through audio and video feed on the Radio Romania Music webite.
Laura Buruiană, born in 1980, is regarded as a pinnacle Romanian artist of her generation. She was supported by Radio Romania Music in 2004, when she reached the New Talent finals, in Bratislava - a competition organized and coordinated by the European Broadcasting Union. Laura Buruiană has proved her true artistic mettle in later on-stage appearances, both in Europe and in the U.S. She has also recorded several albums: various works by Enescu for the Naxos Record Label (2008), an album featuring Brahms for Coviello Classics (2012), an album of Enescu's works, alongside Trio Brâncuși for the Zig Zag Territoires (2012), as well as one featuring works by both Enescu and Bartok, published by Ollecello Record Company (2013).
Ferenc Vizi, pianist, was born in Reghin. Gerard Fremy took an interest in him, at the George Enescu International Competition in 1991. He then studied in Paris and went on to develop an interesting carreer, especially in France.
The "Cast your vote in the poll for the best classical album of 2013" top 5 albums are the following:
1. Laura Buruiană - Ferenc Vizi: Felix Mendelssohn's Complete Original Works for Piano and Violoncello (Coviello Classics)
2. Vlad Stănculeasa - Thomas Hoppe: the Romanian Journey album featuring pieces for violin and piano (Sony)
3. Liviu Prunaru - Dana Protopopescu: Edvard Grieg's Sonatas for Violin and Piano (Casa Radio Publishing House)
4. Tenor Jonas Kaufmann:Wagner (Decca)
5. Avi Avital - mandolin: Bach" (Deutsche Grammophon)
The campaign is ongoing. "Cast your vote in the poll for the best classical album of 2013" takes place on www.romania-muzical.ro/info/voteaza2014

Translated by George Mihăiță and Elena Daniela Radu
MTTLC, The University of Bucharest