> [Archived] Events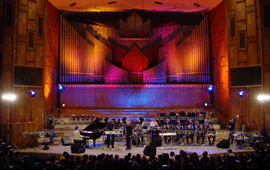 Not Just Some Like Jazz: Luiza Zan in Concert with the Radio Big Band
Thursday, 16 January 2014 , ora 8.17

What can be more pleasant on a winter night that rather feels like an early spring, than a discreet and refined evening of JAZZ at the Radio Hall, with
LUIZA ZAN
an the
RADIO BIG BAND
, conducted by
IONEL TUDOR
?
On Wednesday, January 22nd (19:00), as part of the series of events called Jazz in Romanian, which has become a beautiful tradition at the Radio Hall for the lovers of the genre, you will have the chance to see LUIZA ZAN, one of the most exotic figures in Romanian music over the last years. Non-conformist and free in all her views on life or music, born in a family of musicians and raised in a Bohemian-artistic environment, Luiza Zan won for two years in a row the jury prize, respectively the second prize in the International Jazz Festival in Montreux (Switzerland). She was also awarded the first prize in the Golden Stag International Festival (Cerbul de Aur Festival) in 2004, and she was designated as the Musician of the Year 2011 within the Jazz Awards Gala. To Luiza Zan, jazz is melody and words happily entwined and it always has a story to it.
The evening will be presented by FLORIAN LUNGU, he himself a "personalization" of Romanian jazz, whose carrier, faithfully dedicated to the genre, consists of thousands of radio and TV shows, a significant number of published articles, many festival and jazz concerts presentations, as well as a few compositions performed by well-known soloists and bands. Guided by his own urge - "Jazz longa, vita brevis!" - Florian Lungu is now working on a Short History of Romanian Jazz.
The programme of the event will feature the most famous jazz pieces, from classical to modern, signed by artists such as Duke Ellington, Count Basie, Ted Joans. Moreover, two members of the Radio BIG BAND will perform solo pieces: Cristian Soleanu (on saxophone) and Sebastian Burneci (trumpet).
Tickets are available at www.bilete.ro, the Romanian Post Offices, the Inmedio Stores signaled as "Bilete.ro", the Germanos Stores and at the Radio Hall Box Office.
For any other information on the Radio Orchestras and Choires please visit www.orchestreradio.ro or www.orchestreradio.com.

Translated by Anca Gheorghiu and Elena Daniela Radu
MTTLC, The University of Bucharest