> [Archived] Events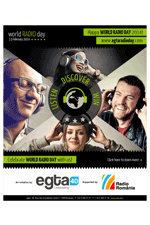 World Radio Day 2014: egta Celebrates the Power of Radio
Thursday, 13 February 2014 , ora 8.39

For the second year in a row,
egta
(the European Association of Television and Radio Sales Houses) considers the World Radio Day a proper opportunity to invite the people working in this domain to celebrate the radio, a means of communication which represents a key part in the lives of millions of people around the world.
The World Radio Day, on 13th February - declared by UNESCO at it 36th General Conference in November 2011 - recognizes the radio as being the mass media support which is able to achieve the widest audience in the world and to offer powerful communication at low cost. The radio programmes can reach the most isolated communities and the most vulnerable persons, encourage the debates, but also support the efficient communication in cases of emergency or disaster. The radio has another side which should be celebrated: it brings quality content to its loyal listeners: music, sports, entertainment, theatre or local news. The radio is the companion of many people from all over the world.
This year, egta chose to highlight the radio᾽s ability to offer each listener a unique experience in the theatre of the mind, and to simultaneously spread messages to millions of people; this makes the radio one of the most accessible media means for the marketing experts. Three audio spots controlled by egta demonstrate the unique capacity of the radio to fill the picture of our imagination.
With a website dedicated to this celebration - www.egtaradioday.com, egta highlights the strong points of the radio as a medium: the ability to reach a huge audience, the exceptional offer to advertisers, as well as the creative power and innovation offered to listeners of today and tomorrow. The site encourages the visitors to discover a selection of the best practical examples of promoting the radio as a media means, but also to support the radio brands.
However, the quality content comes at a price, and the egta᾽s role is to support its members: the sales houses of the radio broadcasting industry in Europe and beyond, that intent to create a solid financial base for the broadcasters. All private and many public service radios are more or less based on the incomings from advertising, and this is why it is crucial that advertisers and media agencies recognize the real value of this medium in building brands and driving sales.
More information you can find at www.egta.com and www.egtaradioday.com
Happy birthday on the World Radio Day 2014!

Translated by Aida Barghila and Elena Daniela Radu
MTTLC, The University of Bucharest