> [Archived] Events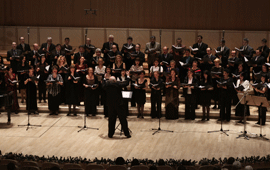 Eminescu, Blaga and Arghezi celebrated by the Academic Radio Choir in a performance of music and poetry
Wednesday, 12 March 2014 , ora 10.17

How long has it been since you read a
POEM
? Well, at the beginning of spring, when the whole nature is preparing for its own revival – a special moment of the year, so often described in verse – the
ACADEMIC RADIO CHOIR
offers you a truly remarkable evening of poetry, beautifully interwoven with music. The starting point is represented by the greatest poets of the Romanian Literature, such as
Mihai Eminescu, Vasile Alecsandri, George Coșbuc, Tudor Arghezi, Ștefan O. Iosif and Lucian Blaga
. You will saunter one
Eve on the Hill,
you will close your eyes in Prayer, you will probably already dream of a
May Night
, you will listen to the song of a
Baby Cricket
while sitting on the grass and you will maybe also remember
Drowsy Birds
and
So Sweet
...
Suggestively named POETRY in Choral Harmony, the programme which will take place at the Radio Hall on Wednesday, 19th March 2014 at 19:00, will offer you the chance to listen to scores inspired by Romanian poetry – works created by composers such as Gheorghe Dima, Vasile Popovici, Marțian Negrea, Paul Constantinescu, Felicia Donceanu and others, interlaced with poems recited by the outstanding guest actors IRINA UNGUREANU and IONUȚ KIVU.
IRINA UNGUREANU has performed remarkably in a wide range of dramatic parts at notable theatres in Bucharest: at the Odeon Theatre – The Marquis de Sade, by Doug Wright, directed by Beatrice Rancea; at the L. S. Bulandra Theatre – Twelfth Night, by W. Shakespeare, directed by Mihai Constantin and also King Lear, by W. Shakespeare, directed by Andrei Șerban – but also on stages outside the capital, such as Fani Tardini Dramatic Theatre, in Galați - The Story of the Panda Bears Told by a Saxophonist Who Has a Girlfriend in Frankfurt, by Matei Vișniec and directed by Andrei Narcis Grosu.
Actor at the Odeon Theatre in Bucharest and contributor to Radio Romania Culture, Ionuț Kiwu is appreciated for his performances in Life is a Dream, after Pedro Calderón de la Barca, directed by Dragoș Galgoțiu, Epic of Ghigamesh, directed by Dragoș Galgoțiu, Señor Juan's Last Woman by Leonid Juhovițki, directed by Vladimir Granov, etc.
Besides the Academic Radio Choir and the two above mentioned actors, you will also have the opportunity to acclaim the tenor NICOLAE SIMONOV, the pianist CARMEN SĂNDULESCU and the violinist ADRIAN ILIE.
The concept for the event and the music administration were carried on by DAN MIHAI GOIA, the conductor of the Academic Radio Choir. With the choir regarded as a gauge by the expert reviews, Dan Mihai Goia, a true Romanian ambassador abroad, participated in over 200 vocal-symphonic and a cappella concerts. Many of his works as a conductor and many of his recordings for the sound archive of the Radio included achievements of Romanian composers – from the classic repertoire to the contemporaneous one – but also works from the universal choir collection.
Tickets at full price are available online on www.bilete.ro, but also at the Romanian Post Offices, the Immedio shops and the Germanos shops. Tickets at half-price can only be bought at the ticket office of the Radio Hall, provided that your retirement coupon and your identity card are presented.
For more information about the Orchestras and the Radio Choirs, please visit the site www.orchestreradio.ro or www.orchestreradio.com.
<b>Zbarcea Bianca-Lidia</b> and <b>Elena Daniela Radu</b><br>MTTLC, The University of Bucharest