> [Archived] Events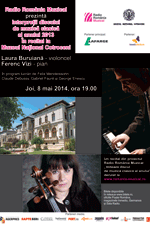 The Performers of the Best Classical Album of 2013 in a Recital in Bucharest
Friday, 11 April 2014 , ora 7.59

In January 2014, Radio Romania Music announces the best classical album of 2013, the outcome being the result of all the votes expressed by the listeners on the website of the campaign
Vote the Best Classical Album of 2013,
on:
www.romania-muzical.ro
On 8th May, 2014, the performers of the best classical album of 2013 - the violinist Laura Buruiană and the pianist Ferenc Vizi - are holding a recital in Bucharest, being invited by Radio Romania Music.
The recital will take place on Tuesday, 8thMay, 2014, at 19:00 in the Cerchez Room at the Cotroceni National Museum.
This recital contains recorded works from the best album of classical music: Felix Mendelssohn's Cello Sonata No.2 in D major, Op. 58 and piano, as well as, Songs without Words by the same composer and opuses by Claude Debussy (Sonata for Cello and Piano), Gabriel Fauré (Elegie for op.24) and George Enescu (Nocturna and Saltarello).
After the recital, there will be an a photo session with the performers. The recording of this recital will be broadcast on Radio Romania Music on 13th May, at 19:30 .
The tickets may be purchased on the website: www.bilete.ro, or at the Romanian Post Offices, the Inmedio and Germano stores and the Radio Hall. The price for one ticket: 25 lei.
The Radio Romania Music Interviews show will have a special edition on Wednesday, 7th May, at 19:00 (live in FM, but also in audio-video on the website: www.romania-muzical.ro) by inviting the performers Laura Buruiană and Ferenc Vizi. This event is created by Cristina Comandașu, the coordinator of the project Vote the Best Classical Album of the Year, which continues its activity in 2014, as well, available on the webpage: www.romania-muzical.ro.
Born in 1980, Laura Buruiană is known as a forefront Romanian performer of her generation. She was supported by Radio Romania Music in 2004 when she reached the finals in the competition New Talent in Bratislava, which was under the aegis of the European Broadcasting Union. Laura Buruiană proved her true talent in her latter performances on important European and American stages. She also recorded several albums: some of Enescu`s works at Naxos recording studio (2008), an album with Brahms` works at Coviello Classics (2012) and an album with Enescu`s works performed together with Trio Brâncușiat Zig Zag Territoires (2012), as well as, an album with Enescu`s and Bartok`s works at Ollecello Rrecording studio (2013).
The pianist Ferenc Vizi was born in Reghin. He was noticed by Gerard Fremy at the 'George Enescu' International Competition in 1991, afterwards he studied in Paris, developing an interesting career, especially in France.
The recital is organized by Radio Romania Music in collaboration with the Cotroceni National Museum, with the support of Lafarge Romania - an essential partner - and Travel Solutions.
Media partners: Anzisoft, Agerpres, 7 seri, Observator cultural, Suplimentul de cultură, Zeppelin, getlokal.ro., artline.ro, port.ro, Diplomat Club and Q Magazine.

Translated by Ana-Maria Florea and Elena Daniela Radu
MTTLC, The University of Bucharest