> [Archived] Events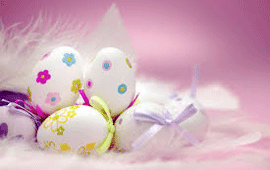 Easter on Radio Romania Music
Thursday, 17 April 2014 , ora 9.06

Between 14th and 25th April, Radio Romania Music proposes special programmes, meant to provide a musical accompaniment for these important periods in the Christian calendar: The Holy Week, the Easter Holiday and the Easter Week.
During the Holy Week, two new shows will be included in the Radio Romania Music programmes, both of which will display recordings received from the European Broadcasting Union. From Monday to Friday, starting at 10:00 - ″the Holy Week″ will include concerts with repertoires specific for the Passion Week, finishing with the Matthaeus Passion by Bach, a recording of the live concert performed by Collegium Vocale Gent, the Royal Concertgebouw Orchestra in Amsterdam and conducted by Philippe Herreweghe on 13th April, 2014. During 14th - 18th April, starting at 17:05, listeners will have the opportunity to listen to concerts proposed by the European Broadcasting Union, as part of the Early Music Days project, which took place on 21st March, 2014. On 14th and 15th April, Radio Romania Music will broadcast concerts which include Romanian names: the conductor Nicoleta Paraschivescu and the countertenor Valer Barnea Săbăduș, two musicians who accepted to give interviews especially for these Radio Romania Music shows.
Also, during the Holy Week, as part of the Polyphonies show (Monday to Friday, starting at 13:15), important sacred music works are scheduled: the Easter Byzantine Oratorio by Paul Constantinescu, the Requiem by Antonin Dvorak, the Requiem by Wolfgang Amadeus Mozart, the Requiem-Parastas by Marțian Negrea and the Vespers by Serghei Rachmaninoff.
And since on 15th April the famous conductor Sir Neville Marriner turns 90 years old, Radio Romania Music takes this opportunity to dedicate to him a Calendar Pages show - an interview with the legendary musician and some of his most representative recordings.
During the Easter Week, from Monday to Friday, the 10:00 - 13:00 interval is dedicated entirely to the programme the Euroradio Concerts…on Holiday; the 17:00 - 19:00 interval will include the Albums Broadcast for the First Time - albums which are part of the Vote the Best Classical Album of 2014 campaign, very interesting titles, in a variedly stylistic space, ranging from film music to Romanian early music or compositions written by the minimalist composer Michael Nyman, together with masterpieces of classical music.
Complete details on the Radio Romania Music programmes, during 14th - 25th April can be found on the website: www.romania-muzical.ro.

Translated by Aida Birghila and Elena Daniela Radu
MTTLC, The University of Bucharest