> [Archived] Events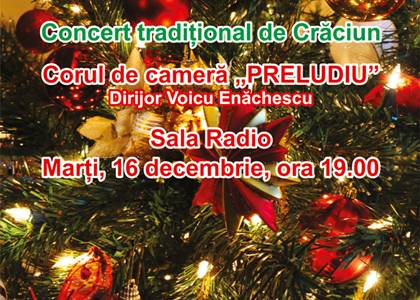 Radio Romania Music Invites You to the Christmas Concert of the 'Prelude' Choir
Wednesday, 26 November 2014 , ora 14.18

Christmas comes to people's souls accompanied by carol harmonies.
Traditional carols from both the Romanian and the foreign repertoires, the carols of childhood, unaltered by modernity, are to be listened to in the concert that the 'Prelude' Chamber Choir, conducted by Voicu Enăchescu, will perform at the Radio Hall on Wednesday, 16th December, starting at 19:00.
The concert is included in the Christmas project of the European Broadcasting Union, which will be broadcast all around Europe on Sunday, 21st December. Radio Romania Music will broadcast this special concert which aims to revive the flavour that Christmas once used to have.
The tickets are available on www.bilete.ro, at the Romanian Post offices, at the Inmedio and Germanos Stores and at the Radio Hall.
Organizer: Radio Romania Music.
Partner: The 'Tinerimea Romana'National Art Centre.
Media partners: Agerpres, 7 seri, Observator cultural, Suplimentul de cultură, Zeppelin, getlokal.ro, artline.ro, port.ro, ziarulmetropolis.ro and ceascadecultura.ro.
The 'Prelude' Chamber Choir, the ensemble of the 'Tinerimea Romana'National Art Centre, was founded in 1972 and has been conducted by Voicu Enăchescu since then. In the over 40 years of activity there were added up over 2000 concerts performed on Romanian and International stages, hundreds of minutes of radio and television recordings, but most of all, a faithful public who apreciates the way in which the 'Prelude' Chamber Choir knows how to interpret the lay and religious Romanian repertoire.
The Christmas concerts of the 'Prelude' Choir are reference points in the Bucharest concert life and are acclaimed every year for the personal manner of interpretation and the atmosphere created by this ensemble; these are concerts that are truly opening hearts to recapture the spirit of Christmas.

Translated by Manuela Cristina Chira and Elena Daniela Radu
MTTLC, the University of Bucharest