> [Archived] Events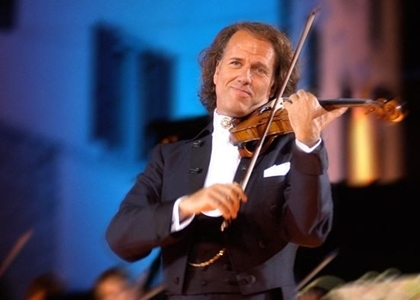 In 2015 AndréRieu Will Hold His First Concert in Romania
Wednesday, 10 December 2014 , ora 15.10

The Romanian fans of the Dutch violinist AndréRieu will be happy to hear that in the summer of 2015 he will perform a concert in Bucharest together with his orchestra. André Rieu has so far sold over forty million disks and DVDs worldwide and is the holder of the largest private orchestra in the world, which is named the "Johann Strauss" Orchestra.
The concert will take place in the Constitution Square in Bucharest on 13th June, 2015 and has been officially announced today through a press conference, held by André Rieu at the Little Hall of the Romanian Athenaeum.
'I am glad to finally be in Romania! When we went to Vienna to perform a concert, each time I asked the audience 'Where are you from?' Half of the listeners answered: 'From Romania!' When we go to Budapest and I ask 'Where are you from?', they answer 'From Romania!' Last week we went to Istanbul. 'Where are you from?' 'From Romania!' Therefore, I thought it was time we came here and here I am! I am eagerly waiting to play for the Romanian public. I have travelled the whole world to meet the people, to look them in the eyes. This is what I like to do when I am on stage. We enjoy ourselves during the concerts and we interact with the audience, and at the end there is always a big party, no matter where we play. I hope this will also happen in the Constitution Square; I am certain that it will be so! The experiences I have had along the years with the Romanian public were wonderful and I am looking forward to playing in front of you. I have heard that Romanians have powerful feelings, that they are very Latin, the same way I am and I will come to Bucharest with an open heart. If the audience is going to do the same, it will be an evening full of joy. I can hardly wait, because this is the most important thing in life - to be happy and love the others.'
When he was asked about what he wanted to say to the Romanian audience, André Rieu declared:
'The message for my public all over the world is to love one another. It sounds like a cliché, but it is very touching to see people getting closer and closer during the concert. Our music makes them love each other.'
The tickets for the André Rieu concert on 13th June, 2015, will be available starting tomorrow, 10th December, and will cost between 160 and 800 RON.
Andreea Chiselev
Translated by Manuela Cristina Chira and Elena Daniela Radu
MTTLC, the University of Bucharest