> [Archived] Events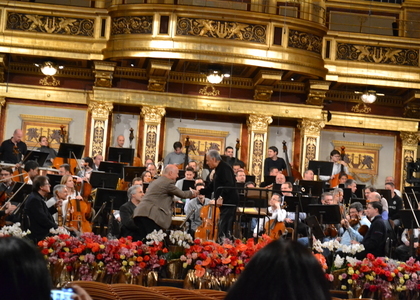 The Press Conference and the Last Rehearsal with the Orchestra for the Seventy-Fifth Edition of the New Year's Concert of the Vienna Philharmonic
Tuesday, 30 December 2014 , ora 9.19

In 2015 the New Year Concert of the Vienna Philharmonic has reached its seventy-fifth edition and will be broadcast live for the fifty-seventh time in over ninety countries.
On Monday, 29th December, there took place the Press Conference regarding the seventy-fifth New Year's Concert organized by the Vienna Philharmonic. Journalists, radio and television personalities, comperes from various continents have gathered in the classy, almost scanty hall of the Imperial Hotel in Vienna (suggestively located between the box office of the Philharmonic and the entrance of the artists of the Musikverein).
The new president of the institution - as the violinist Andreas Grossbauer has been introduced - underlined the symbolic value of this event (tradition means continuity, stability and offers a feeling of safety in these much troubled times), he has also mentioned the charitable activity of the institution, which will donate 100, 000 Euro from the money raised at the 30th December concert (the first out of the three with the same programme, which you will be able to listen to broadcast live on Radio Romania, as well) within the frameworks of a project entitled Light Over Darkness, payed a tribute to the Maestro Zubin Mehta, who was the conductor of the event for the fifth time.
'Enough about me', said the maestro, mentioning that even six decades ago when he assisted to such a concert for the first time he was standing, and this time will be the same... He then underlined the importance of Vienna in his formation and in his life.
The details of the programme have also drawn the attention to the wish of the organizers to emphasize the anniversaries of the Viennese universities and to suggest the cultural journey of Zubin Mehta.
In the afternoon the last rehearsal took place, from which we decided that some 'hits' of the Strauss family would be missing;, but there will also be many surprises - almost unknown works, because only two titles have already been in the other four programmes conducted by Zubin Mehta in Vienna, on the New Year.

Translated by Manuela Cristina Chira and Elena Daniela Radu
MTTLC, the University of Bucharest