> [Archived] Events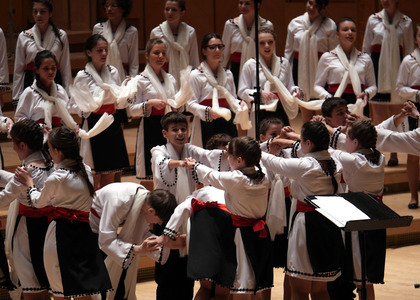 The Radio Children's Choir Goes in the 'Let the Peoples Sing 2015' Euroradio Choral Competition Finals
Tuesday, 27 January 2015 , ora 9.32

The Radio Children's Choir has qualified for the
Let the Peoples Sing 2015
Euroradio Choral Competition Finals - a valued international vocal music event, held under the patronage of the European Broadcasting Union.The semi-finals of the competition were held in München on 22
nd
and on 23
rd
January.
Out of the nineteen choral ensembles brought forth by the thirteen organizations associated with the European Broadcasting Union which have taken part in this stage, the international jury, after having listened to the radio recordings, has selected nine ensembles originating from Denmark, Romania, the United States of America, Austria, Germany, Latvia, Sweden, Bulgaria and Great Britain.
On Sunday, 11th October, 2015, the Radio Children's Choir, conducted by Voicu Popescu, will be performing in the München finals in the Youth and Children's Choirs category, in a public concert held in Studio One of the Bavarian Broadcasting, event which will be broadcast live on the BR-KLASSIK radio station and submitted to the Euroradio 2015-2016 Season. The Bavarian Broadcasting in München, Germany (BR) is responsible with the organization and coordination of the 2015 edition of this competition, which is open to amateur choirs.
The objective of the competition is to kindle the interest in this genre of music, to promote the role of the European Broadcasting Union and that of the other public associated broadcasting services in the organization of significant radio musical events, as well as to create content for the choral music programmes, which will be available on all media platforms.

Translated by Andrei-Radu Bîrsan and Elena Daniela Radu
MTTLC, the University of Bucharest