> [Archived] Events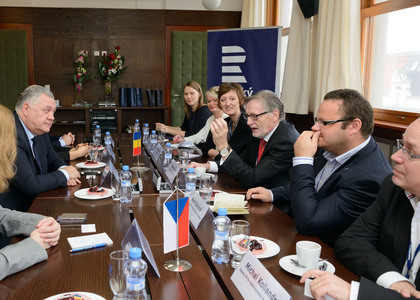 Bilateral Collaboration Agreement between Radio Romania and the Czech Radio
Tuesday, 3 February 2015 , ora 9.57

Radio Romania
and the
Czech Radio Broadcasting
have signed a new two-year bilateral collaboration agreement which encompasses the exchange of programmes between the two public radio stations, featuring original productions and streams of news bulletins, all mutual.
The agreement was signed at the headquarters of the Czech Radio Broadcasting by Ovidiu Miculescu, President Managing Director of Radio Romania and Peter Duhan, Managing Director of the Czech Radio Broadcasting. The event was attended by spokesmen of the Prague Romanian Embassy and by members of the boards of the two Radio Stations.
Several activities are mentioned among the terms of the agreement, such as the participation in radio festivals, contests and cultural shows produced by the two radio stations, the composition of musical and spoken productions for the Czech programme on Radio Romania Timisoara, as well as the creation of a Czech cultural week on Radio Romania Culture, during which productions of the National Radio Drama with pieces of Czech literature will be broadcast. In turn, the Czech party took interest in including in its repertoire several theatre plays of the Radio Romania repertoire. There has also been an exchange of invitations between the two parties, so that each can partake in the radio-drama festivals of the two radio stations, the Prix Bohemia and the Grand Prix Nova.
As for the broadening of the bilateral relations in the musical domain, the preliminary details of a possible concert of the NRO in Prague during the 90th annual season of the Prague National Radio Orchestra have been discussed, followed by a second concert which will be held on the scene of the Bratislava Music Festival.

Translated by Andrei-Radu Bîrsan and Elena Daniela Radu
MTTLC, the University of Bucharest