> [Archived] Events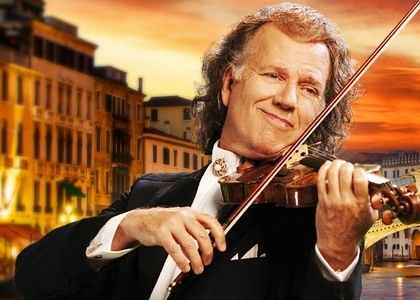 André Rieu Announces His Sixth Concert in Bucharest, on 7th July, 2015
Wednesday, 4 February 2015 , ora 9.02

The sixth concert the famous violinist André Rieu will hold in Bucharest is scheduled to take place in the
Constitution Square, on Sunday
, 7
th
July, 2015. The tickets are available in the
Eventim
network and at its authorized partners starting onThursday, 5
th
February, at 9:00. André Rieu promises a unique event; the concerts he will hold in Bucharest are the only ones where he will perform outdoors, except for the ones he holds in his birth town of Maastricht.
André Rieu announces the organization of his sixth concert in Bucharest. The concert is scheduled to take place in the Constitution Square, on Sunday, 7th July, 2015. The tickets are available on www.eventim.ro, in the Eventim network and at its authorized partners starting Thursday, 5th February, at 9:00. Over 50.000 tickets to the concerts André Rieu will hold in Bucharest have been sold till now and the demand for them is growing.
"My dear friends, I hope you started the New Year well! I am sending you my greetings from Berlin, where we are in the middle of our tour in Germany! During the last few weeks, we have received so many messages from wonderful people! This is why, I am very glad that we have managed to schedule another concert! Along with the traditional open-aired concerts I hold in Maastricht, my birth town, the concerts which I will perform in Romania are as unique; there will not be any other open-aired concert anywhere in the world in 2015! I cannot tell you how eager I am to meet you during those magical evenings in Bucharest!" This was the message André Rieu sent to his Romanian fans.
André Rieu is also inviting his Romanian fans to get into the Valentine's Day atmosphere with a new video, which he dedicates to the day of 14th February. The video can be watched on this link. . Are you in this film, too?, is asking André Rieu.

Translated by Izabela - Elvira Vațe and Elena Daniela Radu
MTTLC, The University of Bucharest