> [Archived] Events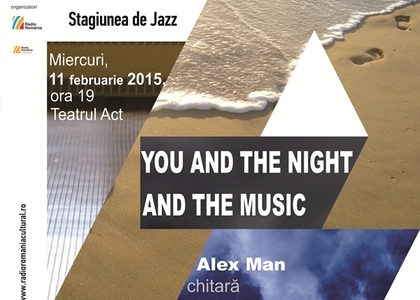 Valentine's Jazzy on the Jazz Season and Performed at the Act Theatre
Monday, 9 February 2015 , ora 9.35

The virtuosity of improvisation is a recurrent theme in the jazz music at the
Act
Theatre.
Starting as an adventure imagined by a group of friends,
The Jazz Season,
which was organized at drummer Vlad Popescu,
Radio Romania Culture
and the
Romanian Radio Orchestras and Choirs'
initiative, has become a model event of the quality ambiance, which promotes the generous diversity of the jazz music.
The first concert of the 2015 season of the Act Theatre will take place on Wednesday, 11th February, starting at 19:00, in the already-familiar-to-improvisation space situated on Calea Victoriei, No. 126.
There will be a lot of good music and especially live music, accompanied by a guitar, a contrabass and a drum, for a special jazz live session.
Two of the permanent members of the season, Vlad Popescu - drums and Adrian Mircea Flautistu - contrabass invite guitarist Alex Man to a You and the night and the music evening. It is a standard written by Arthur Schwart, which was picked intentionally by the protagonists to anticipate the Valentine's Day on 14th February. A Valentine's Jazzy evening, of a nuanced and eclectic sensibility, which reminds the public of some of the most beautiful love - themes of the jazz music.
Many love stories were written while their writers were listening to jazz music and others were transferred to famous versions with powerful echoes in time. From Cole Porter to Richard Rodgers, from Jerome Kern to Victor Young, from Eden Ahbez to Bronislaw Kaper, the leitmotif of love is evolving continuously when it comes to the musical approach of the evening, it doesn't stay in one place and it does not risk falling into nostalgic sentimentalism mood.

Translated by Izabela - Elvira Vațe and Elena Daniela Radu
MTTLC, The University of Bucharest