> [Archived] Events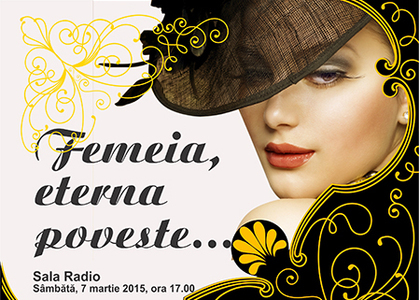 'The Woman, the Everlasting Story' at the Radio Hall - Romanzas, Tango and Fiddle Dance Music from the Beginning of the 20th Century
Tuesday, 3 March 2015 , ora 9.18

On the occasion of International Women's Day, the Folk Music Radio Orchestra invites you to a special concert dedicated not only to ladies of all ages, but also to those who wish to offer them a musical evening inspired from the musical landscape of Bucharest in the early twentieth century. On Saturday, 7
th
March, at 17:00, at the Radio Hall , you will enjoy the showcalled
The Woman, the Everlasting Story
and conducted by Adrian Grigoraș,
that will combine immortal tunes in old or new interpretations: romanzas, famous tango music, fiddle dance music and old Romanian songs. Representative names of the traditional Romanian music, but also young people endowed with talent and love for beauty, will bring tribute to women through their songs: Gheorghe Turda, Ion Ghițulescu, Elena Pădure, Maria Loga, Nicolae Datcu, Constantin Lătărețu, Claudia Torop, Georgiana Bârsac, Ion Toader, Eugenia Moise Niculae, Emilia Dorobanțu, Bogdan Cioranu, Ancuța Corlățan, Florin Boita, Grigore Gherman, Loredana Streche and Andreea Feraru. The event will be presented by Valentin Sanfira a folk music soloist, whom you will also be applauding as a singer.
A Radio Romania concert.
Co-producer: FAVOURITE TV.
Media partners: Radio Antena Satelor, Radio Romania News.
The tickets are available on www.bilete.ro,at the Romanian Post offices, in the Inmedio stores signaled "Bilete.ro", in the Germanos stores and at the Radio Hall ticket office.
For more information on Radio Orchestras and Choirs please visit the websites: www.orchestreradio.com or www.orchestreradio.ro.

Translated by Oana Diaconu and Elena Daniela Radu
MTTLC, the University of Bucharest