> [Archived] Events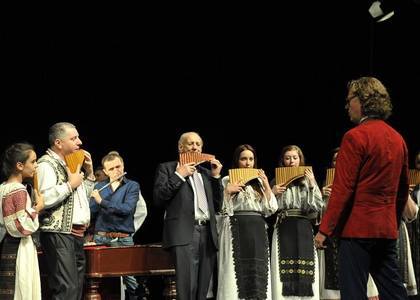 André Rieu Announces his Seventh Concert in Bucharest on 5th June 2015
Friday, 13 March 2015 , ora 9.40

Gheorghe Zamfir will be the special guest of the concerts held in Bucharest. Tickets are still available for the concerts on 6
th
and 7
th
June, 2015.
André Rieu announces his seventh concert, which will be held on Friday, 5th June, 2015, in the Constitution Square, in Bucharest. Tickets for his seventh concert are already available through the Eventim network. The renowned violinist left Bucharest on Thursday after a short visit. André Rieu has brought it forth to his Romanian fans that the artist Gheorghe Zamfir will be the special guest of the concerts he will hold in Bucharest.
"I feel so good after visiting Bucharest and meeting its wonderful people once again! I am working on the details of the Bucharest concerts with great pleasure and I am truly happy that Gheorghe Zamfir will be joining me!" said André Rieu.
Tickets for the concerts on 6th and 7th June can still be bought in the Eventim network.
Born in Maastricht, the Netherlands, André Rieu is one of the best sold musicians in the world. He has rejuvenated the waltz music on an international level through his extravagant performances which are full of emotion. Host of the greatest private orchestras in the world, André Rieu has sold to date over 40 million albums and DVDs in the whole world.
Every year, André Rieu, the Johann Strauss Orchestra, the choir and numerous international soloists hold 100 concerts around the world, having over a million spectators. The tours of the Dutch violinist have reached the Billboard's Top 10 every year, starting with 2004.

Translated by Radu Bîrsan and Elena Daniela Radu
MTTLC, the University of Bucharest