> [Archived] Events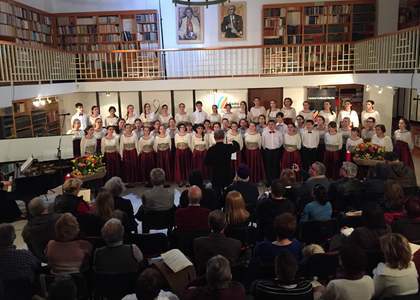 From Britten to Romanian Roots. The Radio Children's Choir Has Won over the Greek Audience
Friday, 27 March 2015 , ora 9.48

One of the most renowned international musical events in Greece, which is also highly valued at an European level, the Evmelia International Music Festival, the fourth edition, in the Greek city of Volos, was opened on Thursday, 26
th
March, 2015, by the Radio Children's Choir, which is celebrating seventy years of existence this year.
The Radio Children's Choir has once again proved that it deserves the title of Cultural Ambassador of the European Union - title which was given by the EU Choir Federation thanks to its countless highly artistic performances on stages all over the world and to its beautiful stage performances which delight both the public and the professionals.
The repertoire they presented was a true journey around the world of music. The choir tackled songs from various geographic areas , from different ages and sonorities. Thus, while in the first part the children sang the famous composition for choir A Ceremony of Carols by Benjamin Britten, in the second part, the fifty children, under the baton of the conductor Voicu Popescu, revealed their Romanian roots to the Greeks attending the concert, by performing the Romanian Roots multimedia show. The audience of Volos listened to folklore songs, sacred byzantine music and songs signed by contemporary Romanian composers. The choir was accompanied on the piano by Magdalena Faur.
ʻThank you for coming to us and showing us bits of your wonderful culture' a spectator said after the concert. ʻWords are not enough for me to congratulate you. The choir has an extraordinary clarity' a Viennese baritone attending the festival said/remarked .
The Evmelia International Music Festival continues until 2nd April and has in its programmes, orchestras, soloists, conductors and music groups from Serbia, Slovenia, Hollanda, Japan, Macedonia, Italy, Bulgaria, Poland, Austria, Montenegro, Bosnia and Herzegovina and Greece.
With its participation in the Evmelia International Music Festival in Greece, the Radio Children's Choir opened its series of international tours during its anniversary year: on the agenda of the choir there are scheduled concerts in Milan (at the Universal Exhibition in Milan in 2015), in Lugano (Switzerland) and in Munich, where it will perform in the final of the prestigious Let the Peoples Sing international Choral competition organized under the aegis of the European Broadcasting Union.
The event is organized by Radio Romania through the Media Cultural Centre and the Radio Choirs and Orchestras. Sponsors: BRD, Eurolines and Carrefour.

Translated by Manuela Cristina Chira and Elena Daniela Radu
MTTLC, the University of Bucharest