> [Archived] Events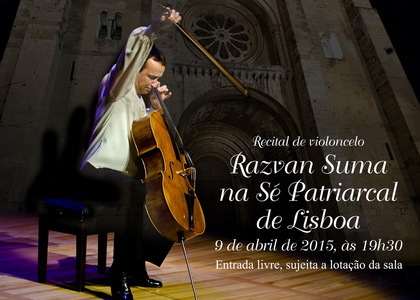 Răzvan Suma Plays at the Inauguration of the new Office of the Romanian Cutural Institute in Lisbon
Friday, 3 April 2015 , ora 8.58

Răzvan Suma, soloist of the Radio Choirs and Orchestras and one of the most valued Romanian cellists, known to the Bucharest public mostly due to the concerts and recitals at the Radio Hall and to the public all over the country thanks to the National tours: Do you like Bach?, Do you like Brahms? and Do you like Tango?, will hold an extraordinary recital in Lisbon on 9th April, 2015, on the occasion of the inauguration of the new office of the Romanian Cultural Institute (RCI). The invitation put forward to the Romanian artist represents a beautiful continuation: on 1st December, 2014, Răzvan Suma held a concert in Lisbon, following the invitation to the same institution, within the events which marked the National Day of Romania.
After RCI Lisbon has functioned uninterruptedly since 2007 in the modern building of the French Institute in the Portuguese capital, starting from 1st April, 2015, our cultural agency will have its own space, with a refined stylistic profile, situated in Alfama, Lisbon's most visited district.
Therefore the new office, situated near the Patriarchal Cathedral in Lisbon (Sé de Lisboa), on the Rua do Barão, no. 8-10 - will be inaugurated on 9th April, 2015, starting at 18:00. The moment will be marked by speeches of officials from Romania and Portugal: Lilian Zamfiroiu, president of RCI, Ana Paula Laborinho, president of the Camões Institute, Jorge Barreto Xavier, state secretary for culture in the Government of Portugal and Vasile Popovici, the ambassador of Romania at Lisbon.
Following the festive moment, the Cathedral of Lisbon, symbol of the Lusitanian royalty, one of the oldest monuments of religious art in Portugal, will host, starting with 10:30, a recital held by Răzvan Suma. The audience will have the opportunity to listen to the famous parts by Bach (Suites nos. 1, 3 and 5 for cello); the association between Răzvan Suma and the mentioned works is a special one. Under the title Do you like Bach?, in 2012, Răzvan Suma held his first national solo tour, the event representing an absolute premiere in Romania in the realm of classical music: the first interpretation of a Romanian artist, in a single concert, of the complete suites for cello signed by Bach.
The admission to the concert is free, in the limit of the available places.

For further information regarding the Radio Orchestras and Choirs please visit the following websites: www.orchestreradio.ro or www.orchestreradio.com.

Translated by Manuela Cristina Chira and Elena Daniela Radu
MTTLC, the University of Bucharest