> [Archived] Events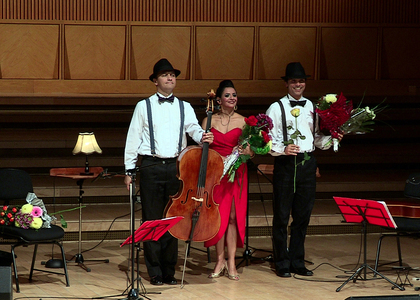 'Do You Like Tango?' Passion Tour Performed by Răzvan Suma, will Be on the Romanian Stages Again
Tuesday, 19 May 2015 , ora 11.24

This is a new edition of the
Do You Like Tango?
National Tour; it is the second edition of this tour, organised by the Radio Romania Music, which will take place in nine of Romania's towns between 23
rd
May and 12
th
June, 2015.
It is an absolute first performance on the Romanian musical stages dedicated 100% to the tango, that was initiated last year by the cellist Răzvan Suma together with singer Analia Selis and the guitar player and composer Julio Santillán, two guests who bring forth the authentic atmosphere of the legendary Argentinian music. Whereas the first edition included performances in ten cities with seven thousands of spectators, this year the three musicians will go on the itinerant story of the legendary tango to Dumbrăveni, Mediaș, Sinaia, Mogoșoaia, Deva, Reșița, Focșani, Galați and Bucharest.
The Do You Like Tango? 2015 edition brings a new feature of extreme interest to the tour's concept: beyond the special cello, guitar and voice settlement, the repertoire was extended in order to comprise famous works composed by the most renowned composers of the moment, such as, Astor Piazzolla, Carlos Gardel and Sebastián Piana, performed in the original traditional style; there are also works composed by Julio Santillán and an array of tangos from the Romanian repertoire. The scenography was settled so each concert could evoke the unique atmosphere of the Buenos Aires' suburbs and of the Bucharest's restaurants from the inter-war epoch, animated by Analia Selis' acting.
These three artists take the road again and reply affirmatively to the public's call and extraordinary feedback of the first edition's success and magnitude in 2014, when thousands of spectators let themselves lead away by this music and dance, same as: 'similar to a sad thought that dances, an alliance between grace and cruelty', as Borges defined it.
The first concert of the tour will be performed in Dumbrăveni on Saturday, 23rd May, on a date of a specific importance for the city: the Culture House in Dumbrăveni, the place where the concert will take place and will be inaugurated on this occasion, after being closed for two decades.
'We were very pleased with the success of last year's event and we decided to re-edit this experience this year by bringing new and surprising elements, such as, the including in the Romanian repertoire of very well known tangos which I hope will be enjoyed by the public in our arrangement and performing. It is very hard labour for us, but we enjoy spending our time together both when rehearsing and on stage, and we hope that this rapture and enjoyment for singing will be plentifully felt by the audience. I can hardly wait to perform in each city and then return to the Radio Hall in Bucharest, where a concert full of many other surprises will be held', stated Răzvan Suma.
These three musicians are very well-known on the Romanian stages and abroad. The cellist Răzvan Suma is also a soloist of the Romanian Radio Orchestras and Choirs' and he has performed in hundreds of national and international concerts. He performed along with the piano player Josu Okiñena in prestigious halls, such as the Auditorio Nacional de Madrid and Teatro Colon in Buenos Aires and he worked together with very well-known international artists, like Maxim Vengerov, Voces Quartet, Silvia Marcovici, Cristian Mandeal, Horia Andreescu, Christian Badea and Misha Katz.
Originating from Argentina, Analia Selis has become one of the most well-known and appreciated exotic voices of the Romanian musical stages. She was invited in the opening of high class musical events, such as the concerts held by the Buena Vista Social Club, Juanes, Natalie Imbruglia and Septeto Nacional de Cuba in Romania. Analia is known to the Romanian public especially for her inspired promotion of Argentine music often using authentic scenographic elements.
As a composer, guitar player and arranger, Julio Santillán recorded over forty albums with worldwide musicians. He began his musical studies in Argentina and then he studied at the Berklee College of Music (Boston, the USA). He worked as an arranger and composer in theatre and cinema performances, in live recordings and concerts of great artists from the USA and Europe. In his compositions Julio Santillán combines the Argentine traditional music elements with jazz elements and classical music.
For more details regarding the Do You like Tango? National Tour, please visit the website: www.razvansuma.com.
ITINERARY:
23rd May: Dumbrăveni - at the CultureHouse, at 19:00
24rh May: Mediaș - at the Traube Hall, at 19:00
30th May: Sinaia - at the Peleș Castle Concert Hall, within the Sound of Music season, at 16:00
31st May: at the Mogoșoaia Palace, part of the Mogoșoaia Clasic Fest, at 12:00
1st June: Deva - at the Drăgan Muntean Cultural Centre, within the Day Dedicated to the Child within Us, at 19:00
2nd June: Reșița - at the Civic Centre (if it rains, the concert will take place at the Western Theatre), at 19:00
4th June: Focșani - at Mr. Gheorghe Pastia Theatre and the People's Athenaeum, at 19:00
6th June: Galați - at the Nae Leonard Musical Theatre, at 19:00
10th June: Bucharest - at the Radio Concert Hall, at 19:00.
It is a project coordinated by Radio Romania Music
Producers: Radio Romania Culture Media Centre and Analia Selis Cultural Association
Co-producer: Radio Romania Regional
An event sponsored by Sensiblu
The Official Partner: BMW
A project co-spooned by the Interpretative Union of Romanian Musicians
The official conveyers: Air France and KLM
Media Partners:
Radio Romania Culture, Radio Romania Music, Radio Romania News, Radio Romania Orchestras and Choirs, Romania Television 2, Free Romania Newspaper, Cațavencii Satire Newspaper, Romania National Television, Hotnews.ro, Seven Nights Print, Business Review, Careers Magazine, Romania Forbes, Metropolis Newspaper, 9 AM News, Kudika, Garbo, Urbo.ro, Media Trust.

Translated by Anca-Elena Vezeanu and Elena Daniela Radu
MTTLC, the University of Bucharest