> [Archived] Events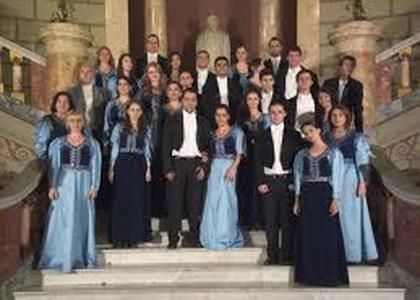 Anniversary Concert - Three Years since the Foundation of the Royal Choir
Wednesday, 3 June 2015 , ora 14.21

The Royal Choir
, the chamber music ensemble, which exists
under the Patronage of His Royal Highness Prince Radu of Romania
and which consists of young musicians and students of the National University of Music Bucharest
invites you to its anniversary concert, through which the ensemble celebrates its three years of existence, to the Cerchez
Hall
of the Cotroceni National Museum, on Friday, 3rd July, 2015, starting at 19:00.
The young ensemble, during its three years of existence, has succeeded in making itself known in the Romanian musical background not only due to the quality and originality of its concerts onstage, but also to its high moral and professional conduct, that the young group of musicians have imposed upon themselves ever since the foundation of their ensemble.
The desideratum of the Royal Choir is to promote Romanian classical music, through interpreting the works of both the established and contemporary composers performed for the first time. Moreover, the ensemble has a varied repertoire, which consists of musical works belonging to the entire universal history of music. Furthermore, the ensemble also wants to promote the art of choral music amongst the Romanian public and to increase the art of choral music both in Europe and the whole world.
The opening concert of the Royal Choir took place in the presence of Their Royal Highnesses Crown Princess Margarita and Prince Radu of Romania, in the Kings' Hall at the Elisabeta Palace, on 6th July, 2012.
Beside the Royal Choir and conductor Eduard Dinu, you will have the pleasure of listening to the performance of some young and very talented Romanian musicians, such as, soprano Irina Ionescu, mezzo-soprano Theodora Baloșin, baritone Andrei Stănculescu, guitarist Lucian Manciu and percussionist George Iacob. Răzvan Apetrei will be accompanying the musicians on the piano. The chosen repertoire is an anniversary one - a multicoloured pallet of styles and sonorities.
Partners - The Romanian Royal House, the Students' Association of the National University of Music Bucharest, the Cotroceni National Museum, the Romanian National Association of Choral Music, the " Tinerimea Română" National Arts Centre, and the "Calea Victoriei" Foundation.
The admission to the event is free, in the limit of the available seats.

Translated by Izabela - Elvira Vațe and Elena Daniela Radu
MTTLC, The University of Bucharest