> [Archived] Events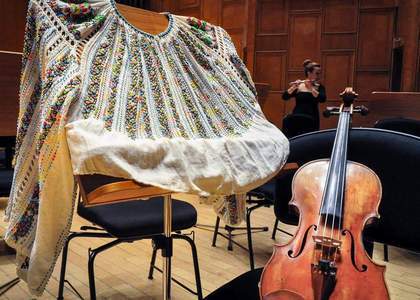 Radio Romania Music Wears the Romanian Traditional Blouse on Midsummer Day's Celebration!
Monday, 29 June 2015 , ora 15.26

Midsummer Day's celebration (Drăgaica) already sets out the third international celebration of the Romanian traditional blouse (IA), on 24th June, 2015. By feasting the beginning of the summer, flowers and love'celebration, the Bedstraws sing the longest day of the year's joy: Good bye Sun, hello Moon/The Bedstraws unsteel, Flowers to become the flower,/Yellow and good smelling, So the girls to gather it, And put them into chaplets.
The Romanian traditional blouse's never ending story, which has become worldwide known due to La Blouse Roumanie peinture, created by Henry Matisse (1940), has been enlivened by celebrating, on the Midsummer Day, the traditional and beautiful chemise that was kept in the grandmother's chest-of-drawers as late as yesterday.
Covering in sounds the Romanian people's words and thoughts for eighty-seven years, Radio Romania Music joins this feast day when the Bedstraws draw the planet on the Romanian traditional blouse. During the Magic Flute National Tour's 5th edition, during the gala concert's intermission, the audience is invited into the Radio Hall's foyer to admire the Romanian traditional blouse's beauty. A collection of Romanian traditional blouses from different areas in the country, owened by Marie-Jeanne Mai-Antal, who is a member of the Romanian National Radio Orchestra, will be exhibited there.

Translated by Anca-Elena Vezeanu and Elena Daniela Radu
MTTLC, the University of Bucharest