> [Archived] Events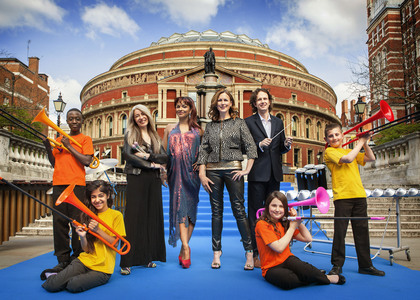 The Opening Concert of the BBC Proms Festival, Live on Radio Romania Music
Wednesday, 8 July 2015 , ora 13.31

It is the most important European summer festival, with an impressive history and equally impressive guests. Radio Romania Music will broadcast live the festival's concerts for the Romanian public.
The BBC Proms Festival in London will be held this year between 17th July and 12th September; the concept has remained the same for 120 years, since the festival was founded by Sir Henry Wood: concerts dedicated to large audiences, where people do not necessarily sit on their chairs, suffused with a 100% British atmosphere. Most of the concerts are held at the moment at the Royal Albert Hall in London with a capacity of 5,300 seats.
Throughout the summer of 2015, you will be able to listen to several live concerts from the BBC Proms Festival broadcast by Radio Romania Music, one of which being the one that will open event. The BBC Symphony Orchestra conducted by Sakari Oramo and pianist Lars Vogt will open the BBC Proms Festival on 17th July, at 21:30. The programme includes two works by two Nordic composers, whose 150th anniversaries of their birth are being celebrated this year: Denmark's Carl Nielsen and Finland's Jean Sibelius. The central theme is one of the most well-known Concerts for piano and orchestra by Mozart, No. 20, performed by Lars Vogt, a famous German pianist. The evening includes a work performed for the first time audition as it was ordered by the BBC Proms Festival to composer Gary Carpenter, and will end with two works bearing the same theme, Belshazzar's Feast, one by Sibelius, the other one signed by the British William Walton.
Radio Romania Music will broadcast live this special concert, on Friday, 17th July, at 21:30; the concert is presented by Anca Ioana Andriescu. Listeners will be able to listen to it again on the website www.romania-muzical.ro until 16th August.
Next live broadcasts from the BBC Proms Festival, broadcast through the European Broadcasting Union, are scheduled between 18th and 19th August, and several other concerts will be available for listening during the "The European Stage" programme.

Translated by Anca Romete and Elena Daniela Radu
MTTLC, the University of Bucharest