> [Archived] Events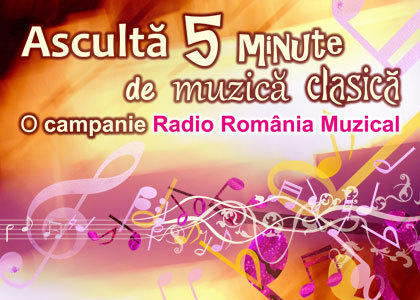 'Listen to 5 minutes of classical music'- Radio Romania Music project
Friday, 9 October 2015 , ora 8.54

From the 1
st
to the 31
st
October you will be able to
Listen to 5 minutes of classical music
in unconventional places - hypermarkets, malls, libraries and museums - thanks to a project of Radio Romania Music, the only Romanian channel exclusively dedicated to classical music and jazz. From the 5
th
of October until the end of the school year,
Listen to 5 minutes of classical music
will be present in Romanian schools, too.
One of the main cultural and educational projects of the Radio Romania Public Corporation, Listen to 5 minutes of classical music aims to bring classical music closer to a greater audience by playing it in both unconventional, crowded places and in Romanian schools, during music classes. Ever since this campaign started in October, 2010, music is being played in public spaces, such as hypermarkets, malls, libraries and museums, twice a year in March and October. The song of the day can also be listened to on Radio Romania Music.
Since 2014, 'Listen to 5 minutes of classical music' has also become a national programme in Romanian schools, thanks to a partnership between the Ministry of Education and Radio Romania. Through this project, the children's access to classical music in schools is efficiently eased by playing the materials provided by Radio Romania Music, which include both a musical work and a story about it. Children also have the possibility of taking an online quiz on the works they listened to. In the academic term 2014-2015, about 120.000 children all over the country were part of the Listen to 5 minutes of classical music project. The start of the campaign for the academic year 2015-2016 is scheduled on Monday, 5th October, 2015.
For more information about this campaign, please visit our website at www.romania-muzical.ro/5minute, where both the audio files of the works that were brought within this project and the quiz for the students can be found.
The partners of the edition in October, 2015 of this project are:
The Ministry of Education
Carrefour Romania
Cora Romania
Mega Image
Băneasa Shopping City
Iulius Mall Iași
Iulius Mall Timișoara
Iulius Mall Cluj
Iulius Mall Suceava
Palas Mall Iași Humanitas Bookstores
Bran Castle
Princewaterhousecoopers
CHM Romania
Cristina Comandașu
Translated by Negoiță Roxana-Beatrice and Ioana Săbău
MTTLC, the University of Bucharest