> [Archived] Events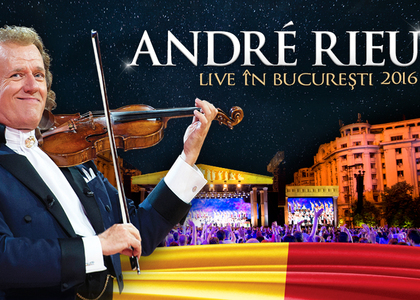 André Rieu announces his 2016 concert at Bucharest
Tuesday, 22 December 2015 , ora 11.07

Irremediable in love with Romania, the famous violinist and composer André Rieu keeps his promise and joyfully announces his new concert at Bucharest.

The Waltz King, André Rieu together with the Johann Strauss Orchestra will perform on Saturday, 11th of June 2016, an the Constitution Square of the capital, starting with 20:30.
The Constitution Square will become 'The Centre of the Universe' also in 2016. This is how the famous violinist André Rieu described the place, that this year in June, hosted no less than seven concerts held in the accompaniment of his orchestra, in the full view of over 85.000 spectators. Thus, André Rieu wrote an important page in the history of the concerts from Romania, being considered as the largest concert event of 2015.
The wonderful things have not ceased to come from the great artist André Rieu. Due to the remarkable presence of Gheorghe Zamfir, the artist promoted the Romanian culture, the music and the traditional dance in his concerts from Maastricht; he was by the side of the Romanians who were suffering because of the tragedy from the Colectiv Club, and as a solidarity movement he offered his most valuable thing: THE MUSIC. The disc of the André Rieu concert 'Live in Bucharest', that was released a few weeks ago, has a great success; thing that significantly influences the support of the #Colectiv victims.
The notoriousness of the André Rieu concerts is being given not only by the repertory of classical plays, which are very famous, but also by the enthusiasm and the cheerfulness that the artist and the orchestra manage to offer to the audience within his performances.
On 11th of June 2016, the audience from the Constitution Square will enjoy an extraordinary show, which will have a new exceptionably artistic programme. A high class concert with over three hours of quality music, emotion and joy.
The tickets will be on sale from Tuesday, 22.12.2015, from 10:00, in Eventim - in the partner stores, Orange, Vodafone, Germanos in Cãrturești and Humanitas library shops, in Carrefour stores and OMV gas stations, and also online on www.eventim.ro.
The prices vary according to the place category, between 160 and 800 lei.

Translated by Oana Diaconu
MTTLC, the University of Bucharest, 2nd Year