> [Archived] Events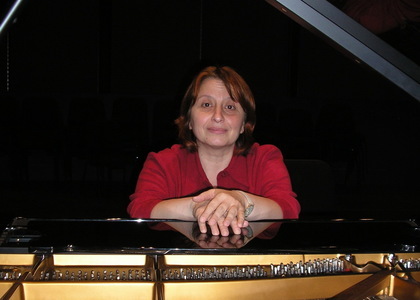 PEER GYNT Suite No.1 - A Dana Borșan Recital at the Radio Hall
Friday, 22 January 2016 , ora 13.01

Wednesday, January 27th (19.00)
, the pianist
DANA BORȘAN
- a soloist of the Radio Orchestras and Choirs, who was lauded by her audience in over 900 concerts - invites you to a recital at the
Radio Hall,
together with four of the National Radio Orchestra musicians (
GRAȚIAN PAPARĂ
- flute
, ADRIAN DUMINICĂ
- clarinet,
IONUȚ ROȘCA
- bassoon
, VLAD BUZDUGAN
- French horn, and
ANA MARIA RADU
, oboe).
The event brings before the public one of the most well-known symphonic works: PEER GYNT Suite No. 1, the famous score composed by the revered Norwegian composer of the Romantic era, Edvard Grieg. You will have the opportunity to listen to Joachim Linckelmann's arrangement of the four scores that comprise Suite No. 1, often performed in concerts, but also as soundtrack for films: Morning Mood, The Death of Åse, Anitra's Dance, In the Hall of the Mountain King.
Considered to be the Chopin of the North, Edvard Grieg composed Peer Gynt for the premiere of Henrik Ibsen's play of the same name, which was inspired from a Norwegian folktale, named after the main character.
The program also includes scores signed by Mozart - Sextet from Piano Sonata KV 282 (arrangement by Thomas A. Schneider), Beethoven - Piano Quintet in E flat major and Rimski-Korsakov - Piano Quintet in B flat major.
Dana Borșan has performed in concerts and recitals in the Czech Republic, Germany, Italy, Russia, Slovakia, France, Spain, England, China, Norway, and many others. She is invited every season on the stages of Romanian philharmonic orchestras, and her repertoire includes over 50 concerts, as well as interesting recital and chamber music programs. Although she prefers the works of the Viennese classics and of the great romantics - Schumann, Chopin, Liszt, Brahms - she has made surprising additions to her repertoire, works performed for the first time in Bucharest - The Piano Concerts by Hanns Wolf, Moritz Moszkowski, Siegfried Matthus, Sigismund Toduță.
In 2006 Dana Borșan and the Radio Chamber Orchestra have developed a project that is unique in the history of Romanian music - The Complete Piano Concertosby Mozart, resulting in live performances, special recordings for the Radio Sound Archive and one album comprising 8 CDs edited by 'Casa Radio' Publishing House. Together with the violinist Alexandru Tomescu, Dana Borșan has also performed the Complete Sonatas for Violin and Piano by Mozart in a series of recitals.
In 2011 the pianist was invited to play in Zwickau at the Robert Schumann International Festival - Piano Concerto No. 1 by Brahms, and at the George Enescu Festival - Piano Concerto by Hanns Wolf.
The concert will be broadcasted live on all Radio Romania Culture and Radio Romania Music frequencies and will be streaming live on the internet on www.radioromaniacultural.ro and www.romania-muzical.ro.
Tickets are available on www.eventim.ro, in Germanos shops as well as Orange, Vodafone, Domo, Carrefour, Cărturești, Humanitas, in OMV gas stations and at the Radio Hall box office.
For further information regarding the Radio Orchestras and Choirs, please refer to the following websites: www.orchestreradio.ro or www.orchestreradio.com.

Translated by Elena Gherca
MTTLC, The University of Bucharest