> [Archived] Events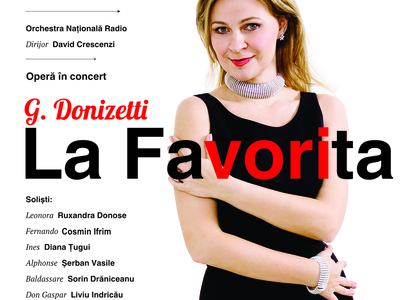 'La Favorita' starring Ruxandra Donose, at the Radio Hall
Monday, 25 January 2016 , ora 9.31

Carrying forward the tradition established at the Radio Hall in the last seasons, the one of presenting each January end an opera title of exceptional distribution in a concert formula, the Radio National Orchestra presents
La Favorita
, a creation of the Italian composer
Gaetano Donizetti,
on Friday, 29th of January (19.00).
Under the baton of the italian originating conductor
David Crescenzi,
an entire constellation of lyrical artists are invited on the boards of the Radio Hall, having the mezzo-soprano
Ruxandra Donose
(in Leonor's role) as leader. Being a well known presence of the greatest boards of the world, the artist enjoys a particular career, her journey gathering concerts and opera performances on very important boards : The Los Angeles Opera,
Deutsche Oper Berlin, Carnegie Hall - New York, Konzerthaus Berlin, Royal Opera House "Covent Garden", Metropolitan Opera, Staatsoper Viena, "La Fenice" Theatre - Venice, Berlin Philharmonic and so on. In her vocal-simphonical repertoire, Ruxandra Donose has worked together with Philadelphia Orchestra, London Philharmonic Orchestra, Berlin Philharmonic, Tonhalle - Orchester Zürich, Orchestre de Paris and many others. Starring on the Radio Hall boards, the lyrical artists Cosmin Ifrim, Diana Țugui, Șerban Vasile, Sorin Drăniceanu and Liviu Indricău, along with the Radio Acdemic Choir, trained by Dan Mihai Goia canbe acclaimed.
La favorita, a part signed by Donizetti, is based on a love story of an amorous triangle that included the king of Castile, his mistress and her lover. The action is set in Castile, in the XIVth century, having as background the Moorish invasion of Spain and the fights between the State and the Christian Church.
Conductor David Crescenzi was named artistic director and conductor of Cairo Opera in September 2014. In July 2015, David Crescenzi conducted La Bohème by Puccini at the Sommer Festival of Sferisterio Arena, from Macerata. In January 2012, he toured throughout Germany and France along with Bergische Symphoniker and also collaborated, in the same year, with the Opera of Rio de Janeiro. He was also conductor of Solothurn Festivalului- Switzerland.
Tenor Cosmin Ifrim was a member of the State Opera of Vien from 2000 until 2008 and played roles as: Lord Cecil from Roberto Devereux, Rinuccio from Gianni Schicchi, Beppe from I Pagliacci, Fenton from Falstaff. In 2008/2009 session, he sucessfully played Alfredo from La Traviata in Londra, Maribor and Athens. A high point of his career was the performance of the tenor part in the renowned Stabat mater work by Rossini, along with The Israel Philharmonic Orchestra.
Soprano Diana Țugui has got a vast lyrical repertoire, which also includes the heroines: Mimi, Donna Anna, Konstanze, Susanna, Liù, Musetta, Micaela, Gilda, Violetta Valéry, Lucia di Lammermoor, Adela, Adina, Rosina and so on.
The artist took part in the masterclasses led by renowned figures as Viorica Cortez, Jaume Aragall, Teresa Berganza, Dalton Baldwin.
The artistical activity of the baritone Șerban Vasile included collaborations with Bucharest National Opera, Burgas Opera (Bulgary), Teatro Regio di Torino, Teatro di Brescia.
From the latest successful concerts, we mention a performance at the Metropolitan Opera from New York, conducted by the famous
James Levine, where the artist played the role of Ford, from the Falstaff opera, by G. Verdi.
Bass Sorin Drăniceanu performed on important boards from the country and also in Germany, Holland, Italy, France, Belgium, Switzerland. His vocal-simfonical repertoire includes many works, and his lyrical repertoire includes roles in operas like Carmen by Bizet, Evgheni Oneghin by Ceaikovski, Lucia di Lammermoor by Donizetti, Don Giovanni, Nunta lui Figaro, Flautul fermecat by Mozart, Turandot, Madama Butterfly, La Bohème, Tosca by Puccini, Nabucco, Aida, La Traviata, Don Carlo, Rigoletto, Falstaff by Verdi, and so on.
Tenor Liviu Indricău is soloist of Bucharest National Opera and he has worked together with the National Opera, Moldova Philharmonic from Iași, Masca Theatre from Bucharest and "George Enescu" Philharmonic from Bucharest. He toured through Israel, Switzerland, South Korea and Germany.
You can listen to the live concert on all of the Radio Romania Culture and Radio Romania Music frequencies from the country and also in live streaming on the Internet, at www.radioromaniacultural.ro and www.romania-muzical.ro.
Tickets are available on www.eventim.ro,
In the Germanos, Orange, Vodafone, Domo and Carrefour shops, in Cărturești and Humanitas bookshops, in OMV gas stations and at the Radio Hall box office.
For other informations about the Radio Orquestras and Choirs, please visit the site www.orchestreradio.ro or www.orchestreradio.com.

Translated by Raluca Ilie
MTTLC, The University of Bucharest, 1st Year