> [Archived] Events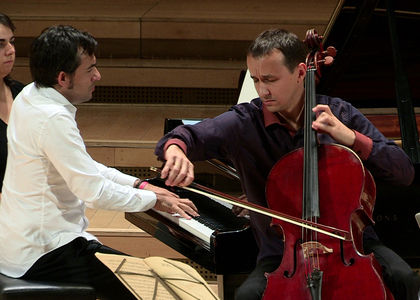 The Charming South in the Spanish Evening Tour with Răzvan Suma and Josu Okiñena
Friday, 5 February 2016 , ora 12.04

A story which takes us through the southern music delights inspired by the Spanish and Basque Country folk,
Spanish Evening
, which the famous Romanian cellist Răzvan Suma and Spanish pianist Josu Okiñena offer to the Romanian audience from 7
th
February to 12
th
February, has brought the two during last year in front of the music lovers from Argentina, Cuba and Spain and is preparing to kindle the imagination of the listeners in the concert halls of Deva, Timișoara and Sf. Gheorghe.
A rarity on the stages of Romania, a concert exclusively Spanish, a sonorous journey in the audible, full of charm landscapes of the Iberian countries, among rhythms of castanets, fans and colourful frills, the recital will bring the two in the Magna Curia Hall of Deva on 7th February from 6:00 p.m., Capitol Hall of Timișoara on 9th February from 9:00 p.m. and Bastion House of Sf. Gheorghe on 11th February from 6:00 p.m.
Razvan Suma will perform alongside his friend, charismatic Spanish pianist Josu Okiñena, artist with an ample solo career and songs which bear the signature of great Spanish composers of the last two centuries: Gaspar Cassado, Joaquin Nin, Aita Donostia, Anton Larrauri, Lorenzo Ondarra, Manuel De Falla. The entire repertoire is based on Spanish traditional folk motifs while the composers included in the programme are representative of the Iberian music: Cassado, one of the most representative Spanish cellists and Aita Donostia, the most important composer of sacred music in the Basque Country.
Programme:
G. Cassado: Sonata en estilo español antiguo
G. Cassado: Requiebros
F. Lavilla: Cuatro canciones vascas
J. Nin: Suite española
A. Donostia: Improvisación
A. Larrauri: Soinua
M. de Falla: Suite sobre canciones populares españolas
Organized by: 'Analia Selis' Cultural Association
Producer: Radio Romania
Partners: UCIMR through the programme Oportunități la tine acasă, Cervantes Institute
Sponsors: Elsaco, Vestra, Cai de vis, BMW
Media Partners: Radio Romania Cultural, Radio Romania Music, Radio România Actualități, Radio România Regional, România liberă, Cațavencii, Seven Evenings
For further information visit: www.razvansuma.com
Răzvan Suma
Răzvan Suma is one of the most active young Romanian musicians and concert soloist of the Romanian Radio Orchestras and Choirs with a vast repertoire who performed many recitals and concerts all around the world. Beside his concert activity in Romania he often performs with Spanish pianist Josu Okiñena in prestigious halls like National Auditorium of Music Madrid, Columbus Theatre of Buenos Aires or Kursaal of San Sebastian.
In 2000 he received the degree of Bachelor of Music of National University of Music Bucharest in the class of maestro Marin Cazacu and in 2002 he started his training programme Artist Diploma at Longy School of Music in Cambridge, SUA, in Professor Terry King's class.
From 2006 till now, Răzvan Suma has performed six trio tours such as Romanian Piano Trio or Trio Strad alongside Alexandru Tomescu, Horia Mihail, and Toma Popovici. He has taken part in the cellos quartet Cellissimo with Marin Cazacu, Alexandra Gutu and Octavian Lup and has performed on the stages of Italy, Portugal, Macao or Morocco. He has collaborated with prestigious names of the international classical music such as Maxim Vengerov, Cristian Badea, Borromeo String Quartet, Voces Quartet, Silvia Marcovici or Misha Katz.
Lately he has promoted the series of tours Do you like Brahms?, Do you like Bach?, Do you like Tango? and the list goes on because each of these tours was accompanied by the release of an album. Also, Răzvan Suma is a regular participant in crossover musical projects where he collaborates with representative musicians of other musical genres.
Josu Okiñena
Currently university teacher and Head of Department of the Research Department of the Musikene University of San Sebastian, Josu Okiñena has performed alongside artists such as Alan Gampel, Migel Etuarte, Almudena Ortega or Maite Maruri. He has taught postgraduate courses at various universities in Spain, Argentina, Cuba and Bolivia.
He has studied at San Sebastian Conservatory where he won first prize for piano and chamber music at the end of his studies at this institution. Later, he perfected his musical skills and won the principal end-of-course prize at the Madrid Conservatory, and in Santiago de Compostela, was presented with the Andrés Segovia y José Miguel Ruiz Morales prize for the performance of Spanish music.
Josu Okiñena has performed with soloists such as Eduard Wulfson, Marta Almajano, Itxaro Mentxaka, Enrique Baquerizo, Lola Casariego and others. He has taken part in a number of festivals as a member of the chamber bands in San Sebastian, Granada, Tours and Peralada. He has also performed with Euskadi Symphony Orchestra, Orfeon Donostiarra Choir, Bilbao Choral Society, Canta Cantemus Choir, Kea Vocal Group and Schola Cantorum. He has collaborated with the Spanish soprano Almudena Ortega in concerts in Cuba, America and Spain and has made a CD album with The complete works for voice and piano of the Basque composer Aita Donostia.

Translated by Ana Vartolomei
MTTLC, the University of Bucharest