> [Archived] Events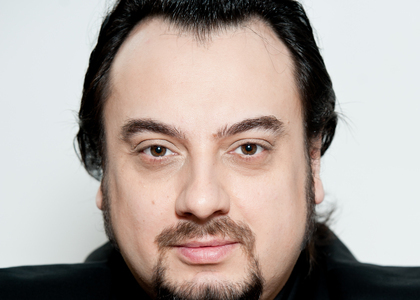 Extraordinary concert at Radio Hall: George Petean in the title role of Simon Boccanegra
Friday, 3 February 2017 , ora 15.55

One of the most internationally famous baritones now,
George Petean
will sing at the Radio Hallo on 10
th
February 2016, at 19.00, in the title role of the opera
Simon Boccanegra
by
Verdi
, accompanied by director
David Crescenzi
, who conducts the
Radio National Orchestra
and the
Radio Academic Choir
led by
Ciprian Țuțu
. Other roles see names like
Cellia Costea, Cosmin Ifrim, Gelu Dobrea, Daniel Pascariu, Florin Simionca, Nicolae Simonov
. The project is embedded in the
Opera in concert
series of events, organized by the
Radio Orchestras
and
Choirs
at the beginning of every year.
His presence in Bucharest for this part is the more interesting, as George Petean - Romanian baritone born in Cluj, in 1976 - received worldwide acclaim at his 2012 debut in Simon Boccanegra, at Teatro dell'Opera di Roma, under the wand of Riccardo Muti, when all of the trade magazines praised his interpretation of the title role.
Concerning the public history of Verdi's Simon Boccanegra, it's interesting that the failure of the 1857 premiere in Venice proved the author that the people are not yet ready to embrace a type of opera in which psychological depth leads the hero toward the pure chant. Verdi didn't give up and, 25 years later, after a grand Requiem written in memory of Manzoni, contested by the new wave of Italian musicians, he made peace with his former adversary Arrigo Boito and, requesting his collaboration as a poet, he made a resounding success out of a revisited version of Simon Boccanegra in 1881.
An event like Simon Boccanegra in concert at the Radio Hall is likely to attract both the traditional public that frequents the hall, as well as Bucharest's operagoers to a unique concert that proposes a work which can very seldomly be heard in Romania.
The fact that future projects will bring George Petean back to the stages of New York, London, Vienna, Berlin, Dresden, Naples, Zürich, Chicago in the baritone roles of Verdi operas: Traviata, A Masked Ball, Rigoletto, Otello, The Troubadour, The Force of Destiny or the role of Gerard in Umberto Giordano's Andrea Chenier, it makes the concert brought by the Radio Orchestras and Choirs even more interesting.
The concert can be heard live on all Radio Romania Cultural and Radio Romania Muzical frequencies around the country and live streaming on the internet on the websites www.radioromaniacultural.ro and www.romania-muzical.ro.
Tickets are available on www.eventim.ro, in Germanos, Orange or Vodafone shops, Domo, Carrefour, Cărturești libraries, Humanitas, OMV gas stations and the Radio Hall box office.
For other information related to the Radio Orchestras and Choirs, please visit www.orchestreradio.ro or www.orchestreradio.com.

Translated by Mihai Andrei Fulgescu
MTTLC 2nd year, University of Bucharest