> [Archived] Events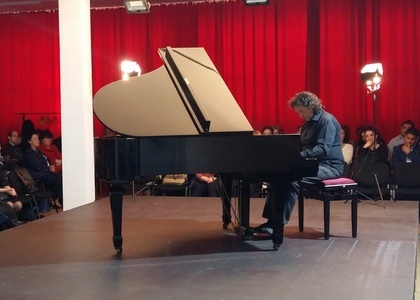 The Traveling Piano Tour - sold out concert at Sala Radio
Thursday, 13 April 2017

After a journey through Moldavia, over and beyond the river Prut, and through Transylvania, already counting up to 7 concerts, over 2000 spectators and rounds of applause that lasted for several minutes, the 7th edition of The Traveling Piano Tour, taking place between the 5th of April and the 4th of May, reaches Bucharest for the gala concert in front of the fastidious audience at Sala Radio. The concert is already sold out, but Horia Mihail, the soloist of Radio România, can be heard live on national radio frequencies of Radio România Cultural and Radio România Muzical, but also throughout the world, on both their webpages and on the mobile apps.
The musical suggestion that pianist Horia Mihail makes is the Waltz:
"The program is highly appreciated by the audience. I have chosen two geographical areas in Europe well known for their compositions: Vienna and its surroundings, by performing Schubert, Brahms and Dvorak in the first half of my program, then I take a leap all the way to Paris, with the help of Chopin, and with the works of Ravel and Debussy I introduce a different type of waltz. One thing is certain, these waltzes are strictly for concerts, and not for dancing. It is a higly pleasant music, highly diverse, despite the concert containing solely waltzes.
The audience is comprised of young people and elders alike. Thus, the Traveling Piano, the project of Radio România and the Accendo Association does its job diligently and they notice that in the places in which the traveling pianos were left in the previous years, such as Roman, Deva and Alba Iulia, places I have revisited, numerous high quality musical events are taking place."
It might not be easy to bring such events to smaller cities, but here's what one of the local tour entertainers has to say about it:
"I think people could easily create a Traveling Piano Fan Club, it would probably have a lot of followers, and even if they aren't numerous, they would probably be consistent. People expect it every year, the context is not always financially favorable, sometimes you need to overcome the endurance of some people, for whom only the thousands of people that gather to see them matter. I kept being told: This is called elitism… Well, we accept this accusation."
The story of this tour is already well known, it takes place with the purpose of bringing joy to music lovers, but it also has the generous objective of giving away a concert piano to a small town to use it for the next few years. After the 7th tour, the piano will remain in Caracal, city that has hosted in its beautiful theater hall numerous performances organized by Radio România, always being filled by the audience which rewarded the artists with rounds of applause, showing its appetite for quality music. From the moment the Traveling Piano will be given to the community to be used for a determined period of time, other important music events will most likely occur in the city.
The itinerary of the tour can be found on www.pianulcalator.ro or on the public radio stations' frequencies.
The Traveling Piano is a Radio România project organized by the Radio România Media Cultural Center and the Accendo Cultural Association.
ITINERARY:
April 5th - Chișinău - Art Museum
April 6th - Iași - BCU Auditorium
April 7th - Piatra Neamț - Highschool of Art
April 8th - Roman - Cultural House
April 11th - Deva - Pro Arts Hall
April 12th - Alba Iulia - Cultural House
April 13th - Sfântu Gheorghe - Arcuș Cultural Center
April 19th - Bucharest - Sala Radio
April 21st - Tulcea - Jean Bart Theater
April 24th - Buzău - George Ciprian Theater
April 25th - Târgoviște - National History Museum
April 26th - Slatina - Eugen Ionescu Cultural Center
Aprl 27th - Caracal - National Theater
April 28th - Pitești - Multifunctional Center
May 3rd - Brașov - Patria Hall
May 4th - Bistrița - Sinagogue
Two other performances have been added by request from the audience:
May 19th - Galați
May 27th - Dumbrăveni
A Radio România Event
Organizers:Radio România Media Cultural Center, Accendo Cultural Association.
Co-producers:Radio România Cultural, Radio România Regional and TVR 3.
Sponsors:JTI, Sense, Erste Private Banking - service offered by BCR, ALRO Slatina, Ade Gas Oil, Senia Music
Partners: ICR Chișinău, Sala cu Orgă Chișinău, Mercure Bucharest City Centre, Bistro Matrioska
Cultural partners: Radio România Orchestras and Choirs, Sala cu Orgă Chișinău, Radio Chișinău, Moldova Iași Philharmonic, Victor Brauner Highschool of Arts, "Carmen Saeculare" Center for Culture and Arts, "Gheorghe Dima" Music Academy, the Piatra Neamț branch, Roman Cultural House, Hunedoara County Council, "DevArt" Cultural Association, Dâmbovița County Cultural Center, Buzău County Center for Culture and Art, George Ciprian Theater in Buzău, Eugen Ionescu Cultural Center in Slatina, Center Inter Art Cultural Association, Slatina City Hall, Sons and Friends of Caracal Association, Caracal Nationa Theater, Pitești Philharmonica, Brașov State Philharmonica, Bistrița County Cultural Center, Bistrița Sinagogue.
Media partners: Radio România Actualități, Radio România Muzical, Media Trust, România TV, Cațavencii, Observator Cultural, Zile și Nopți magazine, Liternet, Business Review, Ziare.com, Accent TV, agentiadecarte.ro.

Translated by Ruxandra Vorotneac
MTTLC 1ST Year, University of Bucharest