> [Archived] Events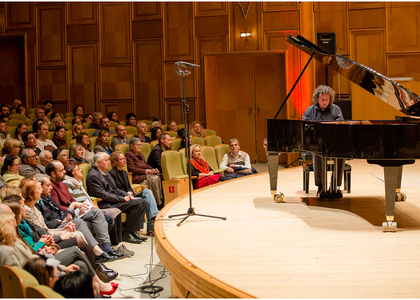 'The Travelling Piano' heads to Caracal, its final destination, via Buzău, Târgoviște, Slatina
Friday, 21 April 2017

During his trips across the country, after years when he performed on stages from big and small cities, Horia Mihail realised that the pianistic "infrastructure" is very weak. Many big musical events aren't possible because there are cities in which, although there are people who would want, there is no concert piano.
This is how the "Travelling Piano" Tour appeared, organised by Radio România and the Cultural Association Accendo, now at its seventh edition. In 2011, Horia Mihail decided to follow the example of the great composer Franz Liszt which, at his time, travelled in the then-Romania accompanied by a concert piano and to try to offer joy to the audience in cities where musical events are more rare or even none. With the support of Radio România which offered him its pianos, these found new temporary houses in Romanian cities which didn't have one.
After Horia Mihail performed for several times in cities in Moldova and Transilvanya, but also in Bucharest at Sala Radio, it is time for the piano to go from the Radio România's headquartes towards cities where there are no concert pianoes.
This time, to encourage other important musical events, the piano with which Horia Mihail will travel with will remain for the next years at Caracal, after his performance at the National Theatre on the 27th of April.
But before he meets with the piano from this year, Horia Mihail will go to Tulcea to play there on another travelling piano, gifted to the community in 2013.
The piano, offered by the Romanian Broadcasting Society, will arrive in Caracal, a very special city, one where you can still see its richness from the Interbelic period, with aristocratic houses, many in terrible shape and only some restaured. This is a good thing because at the Theatre in Caracal, which is an architectural jewel, there are many events going, thanks to one person who solely tries to mantain a high cultural level in the city and to bring as many musicians or actors on that stage. That's why I think that the travelling piano will have a good home in Caracal. (Horia Mihail)
But until he arrives in this city, Horia Mihail and the concert piano will be able to be heard with recitals which include a special programme with concert waltzes in Buzău, Târgoviște and Slatina. In each city, the piano will arrive with a car offered by Senia Music and will be descended, mounted and chorded by a specialised team.
The tour's story is inspired by the example of Franz Liszt. The great composer and pianist made a concert tour in our country in 1846 and 1847, coming with a concert piano. His concerts in communities where these kind of events were extremly rare were really appreciated by the audience. Liszt's arrival itself in cities such as Timișoara, Arad, Cluj, Iași or Bucharest was an events in itself. In Timișoara there was a message on a specially built arch in the square in front of the cathedral saying: "Welcome, Franz Liszt!" The buildings windows were lit, the balconies filled with flowers. Many of this tour's concerts also had a humanitarian side. Franz Liszt had donated the profit to build a school, some of the money was given to the poor, some donated to several music associations.
ITINERARY:
21 aprilie - Tulcea - Jean Bart Theatre
24 aprilie - Buzău -George Ciprian Theatre
25 aprilie - Târgoviște - National History Museum
26 aprilie - Slatina - Eugen Ionescu Cultural Centre
27 aprilie - Caracal - National Theatre
28 aprilie - Pitești - The Multifunctional Centre
3 mai - Brașov - Sala Patria
4 mai - Bistrița - Sinagoga
At the audience's request, there are two more recitals:
19 mai - Galați
27 mai - Dumbrăveni
A Radio România event
Organisers: Centrul Cultural Media Radio România, Asociația Culturală Accendo. Coproducers: Radio România Cultural, Radio România Regional și TVR 3. Sponsors: JTI, Sense, Erste Private Banking-serviciu oferit de BCR, ALRO Slatina, Ade Gas Oil, Senia Music. Partners: ICR Chișinău, Sala cu Orgă Chișinău, Mercure Bucharest City Centre, Bistro Matrioska. Cultural Partners: Orchestrele și Corurile Radio România, Sala cu Orgă Chișinău, Radio Chișinău, Filarmonica Moldova Iași, Liceul de Arte Victor Brauner, Centrul de Cultură și Arte "Carmen Saeculare", Academia de Muzică "Gheorghe Dima" Extensia Piatra Neamț, Casa de Cultură din Roman, Consiliul Județean Hunedoara, Asociația Culturală "DevArt", Colegiul Național Decebal Deva, Municipiul Alba Iulia, Centrul de Cultură Arcuș, Teatrul Jean Bart din Tulcea, Primăria din Tulcea, Consiliul Județean Tulcea, Consiliul Județean Dâmbovița, Centrul Județean de Cultură Dâmbovița, Centrul Județean de Cultură și Artă Buzău, Teatrul George Ciprian Buzău, Centrul Cultural Eugen Ionescu din Slatina, Asociația Culturală Center Inter Art, Primăria Slatina, Asociația Fiii și Prietenii Caracalului, Teatrul Național din Caracal, Filarmonica Pitești, Filarmonica de Stat din Brașov, Centrul județean pentru cultură Bistrița, Sinagoga din Bistrița. Media partners: Radio România Actualități, Radio România Muzical, Media Trust, România TV, Cațavencii, Observator Cultural, Zile și Nopți, Liternet, Bussines Review, Ziare.com, Accent TV, agentiadecarte.ro.
www.pianulcalator.ro

Translated by Matei Denisa
(MTTLC, University of Bucharest, 2nd year)