> [Archived] Events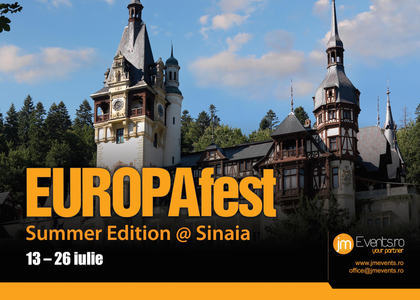 EUROPAfest Summer Edition! Sinaia, 13-26 July
Wednesday, 12 July 2017 , ora 11.11

After the great success of the 24th edition of EUROPAfest- jazz, blues, pop and classical which was organized in May at Bucharest and Sibiu, jmEvents and Jeunesses & Dinu Lipatti bring into being the summer edition of the festival in Sinaia from 13-26 July. EUROPAfest Summer Edition is organized in partnership with the City Hall of Sinaia, Peleș Museum and Mara Hotel and has already become a long waited tradition both for the locals but also for the tourists. In its schedule we find classical and jazz concerts but also Summer Music Academy Sinaia.
The festival has a duration of two weeks and presents artists from over ten countries: Great Britain, USA, Italy, Portugal, Singapore, Turkey, South Africa, Iceland, Sweden, Poland, India and Romania.
Titles like "Summer Concert at Castle", "Concert in the Park", "Summer Magic Dream" are just few of the titles that invite the public starting from 13-26 July and make them forget about the fuss in the cities in order to enter in the magical atmosphere from Peleș Castle and Sinaia Casino. Also, there will be organized concerts in Parcul Central and King`s Valley Hall- Mara Hotel.
Summer Music Academy Sinaia is an advanced musical study programme and performance. Some of the teachers invited from the Academy are Remus Azoiței/ UK, one of the most apreciated artists of our times, performing in the elite of London musical area, teacher at Royal Academy of Music in London, Irina Mureșanu/ USA, a plurivalent artist- a violin player, conductor, teacher with numerous concerts who won the heart of the audience and critics through her very emotional, elegant and sensitive performances. She is a violin and chamber music teacher at Boston Conservatory and also at the Maryland University of Washington D.C., Mario Caroli/ France, a cosmopolit artist, regularly invited to the most prestigious festivals from all over the world, a flute teacher at Superior Academy of Music from Strasbourg- HEAR and Freiburg Academy of Music or Matteo Evangelisti/ Italy, solo flute player at Rome Opera.
Festival's agenda:
14 July | 19.00 | "Opening EUROPAfest Academy" Concert- King's Valley Hall, Mara Hotel
19 July | 19.00 | Concert in the Park-Sinaia Casino, "Dimitrie Ghica" Central Park
20 July | 19.00 | "Summer Concert at Castle" Concert- Peleș Castle
22 July | 19.00 | "Summer Magic Dream" Concert- Peleș Castle
23 July | 19.00 | "EUROPAfest Summer Edition Gala" Concert- Peleș Castle
13-25 July | Summer Music Academy Sinaia.
The access to these concerts can be made with invitations but there is also a free access but limited in the number of available seats.
In 2005 EUROPAfest was the first event in Romania which was given by the Royal House the title of High Patronage and from 2015 EUROPAfest has received the title of EFFE Festival | Europe for Festivals, Festivals for Europe- Europe`s finest festivals, a programme made by the European Committee and European Parliament through European Festivals Association. Additional information: 0720.31.61.62 | office@jmEvents.ro | www.jmEvents.ro .

Translated by Dinulescu Ilinca
MTTLC Graduate