> [Archived] Events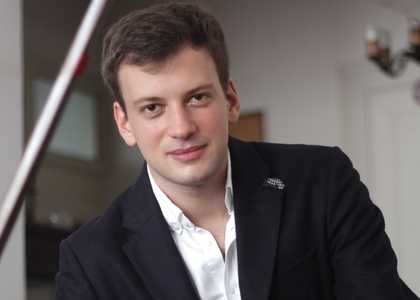 Piano Recital with Mihai Ritivoiu at Radio Hall
Thursday, 5 October 2017 , ora 8.01

The winner of the prestigious contest, "Dinu Lipatti", and laureate of the "George Enescu" International Contest, on the piano category, pianist Mihai Ritivoiu will perform his first piano recital at Radio Hall, on Wednesday, October 4th, starting at 7 PM. The recital will encompass some of the most important works from the solo repertoire of piano compositions. Thus, the evening will begin with Ludvig Van Beethoven's Sonata Op. 26 in A flat major, followed by two of Schubert's works, Impromptu Op. 90 no. 2, in E flat major and Impromptu Op. 90 no. 3, in G flat major. Mendelssohn's Variations Sérieuses, Op. 54 in D minor will complement the musical mosaic of the recital, that will come to an end with Liszt's Sonata in B minor.
Former student of Vinicius Moroianu at Bucharest, of Joan Havill at London, and evolving under the guidance of Valentin Gheorghiu, Mihai Ritivoiu has a soaring international career, performing recitals and concerts at the Romanian Athenaeum, but also at Wigmore Hall, Barbican Center or at West Road Concert Hall, in Great Britain.
The concert can be listened to live, on all the frequencies of Radio România Cultural and Radio România Muzical, countrywide, and also through live streaming on the internet, on www.radioromaniacultural.ro and www.romania-muzical.ro.
Starting with the new season, tickets and passes for the performances of the Radio Orchestras and Choirs can be purchased online, through www.bilete.ro.They can also be purchased at the ticketing desk of Radio Hall, and will also be available at the Romanian Post offices and in Germanos and Inmedio shops, in collaboration with Bilete.ro.
For other details regarding the Radio Orchestras and Choirs, you have access to details on the official web page, www.orchestraradio.ro.
Biography
Mihai Ritivoiu was born in Bucharest, and started taking piano lessons at the age of 6. In 2012, he graduated the National Music University of Bucharest, from the class tutored by professor Vinicius Moroianu. Eventually, he graduated the MA program from Guildhall School of Music & Drama from London, where he studied with Joan Havill. He also took part in a series of masterclasses, held by Dimitri Bashkirov, Dominique Merlet, Richard Goode and Emmanuel Ax, and he benefited from the advice and guidance of Romanian pianist Valentin Gheorghiu.
He had won the "Dinu Lipatti" National Contest, Bucharest 2010, and he was awarded at the "George Enescu" International Contest in 2011, for the piano section. After all these accomplishments, he was invited to record Rachmaninoff's Concerto no. 2 for piano and orchestra for the Romanian Society of Radio Broadcast, along with the National Radio Orchestra, conducted by Gheorghe Costin. He performed chamber concerts and recitals in Romania, England, France, Portugal, Switzerland and Italy, in places such as the Romanian Athenaeum, St. Martin-in-the-Fields, Wigmore Hall, Barbican Centre, West Road Concert Hall and Ernest Ansermet Studio. In 2015, the Beethoven Piano Society of Europe from London awarded him the Golden Medal, and he was invited to take part in BBC's In Tune program. His recitals and concerts were transmitted live on Radio România Muzical, Radio Suisse Romande - Espace 2 and Medici TV.

Translated by Ruxandra Vorotneac,
MTTLC 1st Year University of Bucharest