> [Archived] Events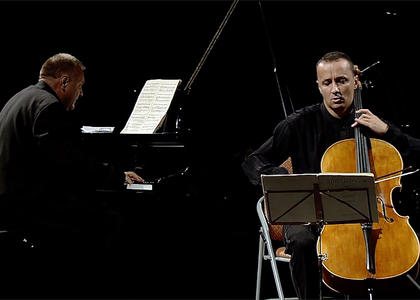 'Do you like Beethoven?' A new musical journey, with Răzvan Suma and Daniel Goiți
Monday, 9 October 2017 , ora 8.48

Two exceptional musicians, Răzvan Suma și Daniel Goiți and two magical instruments, a cello and a piano are embarking at the start of a new musical journey that cannot be missed: national tour Do you like Beethoven? which will take place between 11 and 30 october 2017 in 8 cities across Romania.
Already at its 6th edition, the Do you like...? tour has been initiated in 2012 by the cello player Răzvan Suma, and, ever since, the public has been fascinated by the story of a musical adventure which grew from one stage to the next: from Bach to Brahms, from tango to Schumann, this year, the tour launches a new challenge: Do you like Beethoven?
In a musical duet which will be spectacular, the two musicians, stars of the tour Răzvan Suma și Daniel Goiți will perform three sonata for piano and cello written by the famous german composer: Sonata no. 3 in A major, opus 69 the ultimate landmark of the genre, and also Sonata no.1 in C major, opus 102 and Sonata no. 2 in D major, opus 102.
"The Do you like…? tour shows its constancy, at the sixth title, says Răzvan Suma. We are going into a new adventure with Do you like Beethoven? together with the pianist Daniel Goiți, in a musical marathon that will last more than two weeks. This year, we want to offer to the public an incursion in the universe of the Sonata for cello and piano, by Beethoven. I am convinced that this choice will bring the best answer to our challenge: Do you like Beethoven? Not only we are answering this question, the instrument players fascinated by the universe of this titan of the classical music, which established the sonata as a musical genre and gave the cello and the piano equal roles in these compositions that musicologists are naming "total, fluid sonata". The public is answering, first, and I am sure it will be a unanimous answer, without doubt. We will meet in Timisoara, at the start of the tour, on October 11th. On the map of our adventure will follow Sfântu Gheorghe, on October 14th, Alba Iulia, on October 15th. We will be in Deva on October 16th, in Bistrita on October 17th and in Iasi on October 18th. We are coming to the Radio Hall on October 24th and will close the tour in Pitești, on October 30th. We invite you to travel together!"
Concert soloist of Radio Orchestra and Chorus, Răzvan Suma is one of the most active young Romanian musicians. He has performed hundreds of recitals and concerts in Romania and abroad and has participated in prestigious international festivals. Project suite Do you like Bach ?, Do you like Brahms ?, Do you like tango? or do you like Schu ...? placed Răzvan Suma among the best known and appreciated Romanian cellists. These include the Spanish Evening and British Evening tours and the ArgEnTango grop tours - Piazzolla, an authentic story, as well as the Tango at Cetate project.
Daniel Goiti, a graduate of the Gheorghe Dima Academy of Music in Cluj-Napoca, has completed his artistic training at the Berlin Academy of Arts, has been invited to major festivals and has performed concerts and recitals in Greece, Austria, Republic of Moldova, France, Hungary, Germany, the United Kingdom and the USA. He has performed in concerts in Romania with the most important orchestras and has performed recitals in the country and abroad. He has been awarded numerous prizes at national competitions, won the First Prize of the George Enescu Contest and the First Prize at the Arthur Schanbel International Contest in Berlin, and is currently invited to jury at major music competitions.
The artists dedicate the series of these concerts to a charitable cause. For 25 years, Hospice Casa Speranței (Hospice House of Hope) exists Romania to offer free support to children and adults with incurable diseases. Because we know how great the need for palliative care services is, we join Hospice and urge our viewers and our friends to get involved with us by donations, redirecting 2% of the income tax or any other form of support of this cause (www.hospice.ro).
Itinerary:
October 11th, 19.00 hours: Timișoara, Capitol Hall
October 14th, 19.00 hours: Sfântu-Gheorghe, Arcuș Cultural Center
October 15th, 19.00 hours: Alba Iulia, Cultural House
October 16th, 19.00 hours: Deva, Pro Arte Hall
October 17th, 19.00 hours: Bistrița, Synagogue
October 18th, 19.00 hours: Iași, BCU Aula
October 24th, 19.00 hours: București, Radio Hall
October 30th, 19.00 hours: Pitești, Philarmonic Hall
Organizers: Cultural Association "Analia Selis"
Co-producer: Radio România Cultural Center
Official Partner: BMW
Project co-financed by UCIMR
Official Air Carrier: Air France / KLM
Media Partners: Radio România Cultural, Radio România Muzical, Radio România Actualități, Radio România Orchestras and Choruses, TVR3, România Liberă, Cațavencii, Hotnews.ro, Business Review, Cariere, Forbes, Metropolis Newspaper, 9AM, Urbo.ro, Garbo, Media Trust, România TV
Sponsors: Sensi Blu, Vestra Grupul Elsaco, Cai de Vis
A Radio România project

Translated by Mihaela Louise Ghițescu,
MTTLC – An II