> [Archived] Events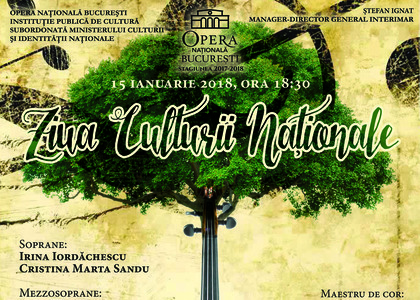 Extraordinary Concert - The National Day of Culture on the Bucharest National Opera stage
Thursday, 11 January 2018 , ora 11.56

On the stage will perform the soloists of the Bucharest National Opera: Sopranos Irina Iordăchescu and Cristina Marta Sandu, mezzo-sopranos Maria Jinga and Sorana Negrea, tenor Lucian Corchiș, baritones Stefan Ignat and Iordache Basalic and bassos Marius Boloș and Iustian Zete, National Opera Choir Bucharest Choir conducted by Daniel Jinga and All's Choir. The accompanying pianists of the event will be Luminița Berariu, Mădălina Florescu and Liana Mareș. The program of the show will include only Romanian titles, specific to the event.

January the 15th, declared as the National Culture Day since 2010, is the Romanian national poet Mihai Eminescu's date of the birth (1850-1889). The National Day of Culture has become, over time, not only the day when Romanian people celebrate a great creator, but also a day of reflection on Romanian culture, in general, and on cultural projects of national interest.

Tickets can be purchased from the Ticket Office of the Bucharest National Opera or online at www.tickets.operanb.ro.

Translated by Costache Alexandra Iuliana,
MTTLC 1st year University of Bucharest