> [Archived] Events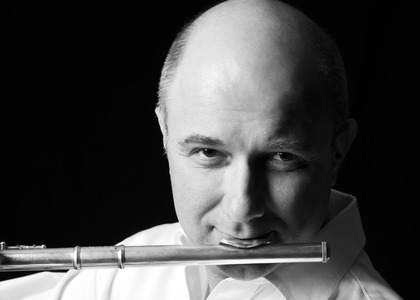 Flautist Ion Bogdan Ștefănescu in concert at the Radio Hall
Wednesday, 7 February 2018 , ora 11.36

Friday, February 9th 2018, at 19.00, flautist Ion Bogdan Ștefănescu, lead performer of the "Magical Flute" tour, will return to the Radio Hall in a concert with the National Radio Orchestra. The conductor will be Anastasios Symeonidis, who is currently the artistic director of the Greek Radio Orchestra, a musician with both Greek and international accolades on the artistic stage.

The evening will start with a work from the Romanian repertoire - Twilight in Autumn by A. Alessandrescu, followed by the Concerto in E minor for flute and chord orchestra by S. Mercadante. The schedule will end with the Symphony no. 1 in C major, op. 21, by L. Van Beethoven.

As a lead flutist of the George Enescu Philharmonic, a flute professor at the Bucharest National University of Music and soloist of the Banatul din Timișoara Philharmonic, Ion Bogdan Ștefănescu is the first Romanian flutist to play a golden Muramatsu flute in concert. He has been going on the national tour called "The Magic Flute" for seven years now, a unique musical experience which has had an impressive success.

The concert can be heard live on all Radio Romania Cultural and Radio Romania Music frequencies in the country and on live streaming on the Internet at www.radioromaniacultural.ro and www.romania-muzical.ro.

Tickets and subscriptions for the events of the Radio Orchestras and Choirs can be purchased online through www.bilete.ro. They can also be purchased at the Radio Hall ticket office and are available at the Romanian Post offices marked Bilete.ro, as well as in the Germanos and Inmedio stores marked Bilete.ro.

For any other information regarding the Radio Orchestras and Choirs, please refer to www.orchestreradio.ro.

Translated by George Arion,
MTTLC 1, Universitatea București