> [Archived] Events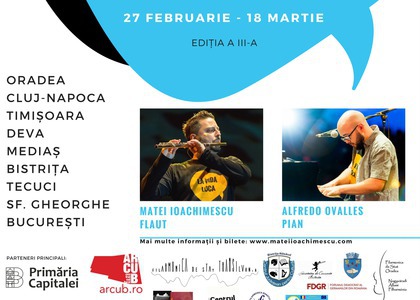 La Vida Loca Tournament at the 3rd Edition, 27th of February – 18th of March, 2018
Thursday, 15 February 2018 , ora 11.16

The Romanian flautist, Matei Ioachimescu and the Venezuelan pianist, Alfredo Ovalles, whose careers know the international consecration, invite you to a trip around the world during the third edition of the La Vida Loca tournament. The unique, cross-over program will be hosted by nine cities in Romania, between February, 27 and March, 18, 2018, from Oradea and Cluj, to Timisoara, Deva and Bucharest.

Matthew Ioachimescu, the flutist whose musical journey began in Romania and perfected at the Vienna Music Academy, along with Alfredo Ovalles, formed at the Universities of the United States and Austria, offer you an escape from the daily.

The two virtuoso and versatile musicians, have a repertoire which vary from baroque music to contemporary creations, collaborating with ensembles from Europe to Japan.

For this year's edition of the tournament, the two selected scores that break the boundaries between classical jazz music and contemporary pop-rock sounds.
Matei Ioachimescu and Alfredo Ovalles challange you to discover that, the sound and the rhythm, when they embrace the most vibrant emotions of joy and nostalgia, burning sensations, sprinkled with humor and explosive energy, always make you feel like home.

Matthew Ioachimescu's flute is the instrument through which this musician not only expresses his mastery, but also his involvement in artistic mentoring activities in Austria, Japan, Hungary, Croatia and Romania, as well as in the cultural diplomacy commitments which were entrusted to him by the current Chancellor of Austria, Sebastian Kurz, since 2013.

Information about concert halls and tickets can be found on www.mateiioachimescu.com, as well as on the facebook page La Vida Loca - Matei Ioachimescu Flute, Alfredo Ovalles Piano.

The calendar La Vida Loca Tournament:

27th of February 2018 - ORADEA, Filarmonica de Stat
28th of February - CLUJ NAPOCA, Academia de Muzică
1st of March - TIMIȘOARA, Filarmonica Banatul
3rd of March - DEVA, Colegiul Național Decebal
4th of March - MEDIAȘ
5th of March - BISTRIȚA, Sinagoga
6tth of March - TECUCI
17th of March - SF. GHEORGHE
18th of March - BUCUREȘTI, ARCUB

Organizer: ViennArt Cultural Association
Partners: Association for Music and Culture, SKYLINE Cultural Association.
Cultural partners: Bucharest City Hall, ARCUB - Bucharest Cultural Center, Oradea State Philharmonic Orchestra, Transylvania State Philharmonic, Banat Timisoara Philharmonic, Hunedoara County Council, DevArt Cultural Association, Decebal Deva National College, Mediaș City Hall, Democratic Forum German, St. Margaret Mediaș Evangelical Church, Bistrița-Năsăud County Cultural Center, Bistrita Concert Society, Pelin Foundation, Arcuș Culture Center.
Project supported by Radio Romania Music.

Translated by Denisse Grigore,
MTTLC, the University of Bucharest